Just to get some all natural J-cup breasts of different dimensions on the blog (since today's other massive mammary model Sarah's huge tits fit more into the busty voluptuous category), I thought something slim and stacked might be in order for large breast lovers who feel My Boob Site would be best to place a firmer focus upon busty girls sporting a disproportionate breast to body ratio (whereas, body big or small, I love them all).
And who better to represent their "I like big tits, but thin is in" erotic image ideal than sexy and slender yet juggsome 32J Julie Anderson, most recent big norks newcomer to the PinUpFiles family? This beautiful, bespectacled, slim and stacked J-cup busty black babe not only fills the big bra bill with respect to breast to body ratio, but also has a little something extra going on to please comparatively small areola and inverted nipple fetish fans!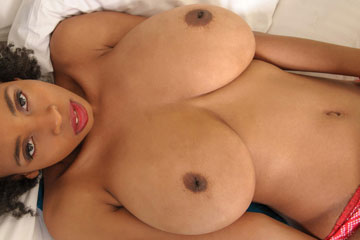 Alas, if only she'd let me get in her panties, I could complete this picture of big black breast perfection with its cunniferous chocolate complement. But, then again, that's just my personal fetish and has nothing to do with boobs. Besides, this is just juggy Julie's first photo shoot debut for the PUF peeps, so I'm left with the hope we'll get to see much "more" of her in the future (*hint-hint* ('tho I do feel bad encouraging a girl to go all the way and get naked if she's not totally comfortable with it, especially since she's already shown herself to be so nice and willing to share her breasts bare with us)).
So, whilst I ponder the moral dilemma of porn preferences more intimate and personal in nature, the genitally exclusive big breast loving rest of you can at least enjoy the massive mocha mammaries of sexy 32J busty ebony goddess Julie Anderson from PinUpFiles.com: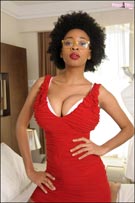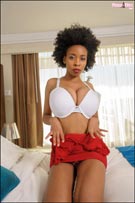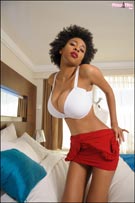 CLICK HERE TO VISIT 32J JULIE ANDERSON AT PINUPFILES.COM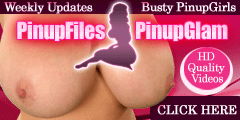 (webmasters)
Share and Enjoy
→ Return to MyBoobSite for More Big Tits ←