I believe the popular term, right now, is "Nom nom nom".
What am I nomming? well, it's Leanne Crow, innit. Now with her own website.
We have not got any promo content, as yet, but we will have soon. In the meantime, here is what we grabbed from the site.
With her glorious 32JJ knockers and her superb waist and ass (again, just the right amount of flesh, dontcha think?) the only thing that may be against her is her accent. As I type, I have yet to hear her speak. I have read, however, that she is from Sunderland, in the North East of the UK. Now, I love Tyne & Wear accents, but I know many, even here in the UK, that are totally unable to understand it, or anyone that comes from that area.
It is (ok, was) a very industrial area of the country, and, as such, has an image of a hard, blokey type of voice. I don't think that's always the case, and a soft spoken Geordie* voice is, IMHO, very sexy.
Having seen her name crop up in the comments, over recent weeks, I know you all find her as lovely as I do. (And yes, I am aware that she has been modelling a while and been on other sites

) It's just… now she has her own: LeanneCrow.com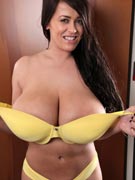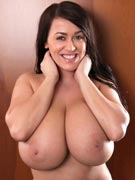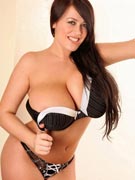 CLICK HERE TO VISIT 32JJ LEANNE CROW AT LEANNECROW.COM

*I know that "Geordie" may not be the right name for some areas of this catchment of Tyneside, and, as a Sunderland lass, she might prefer the term Mackem, but I don't really want to get into the semantics of British accent names. We'd need a whole new blog for that.
(webmasters)
Share and Enjoy
→ Return to MyBoobSite for More Big Tits ←