Aaah, SeptemberCarrino, you're nothing like the big tongued twat Jamie Oliver, (who used to have a TV show called The Naked Chef – it was a misnomer, btw) at all. It's not just the 34 K-cup boobs. You're far more pleasant on the eye (and the ear!).
Vix has been known to cook naked. It can be a hazardous occupation, especially for anyone with nice, big, pendulous protuberances.
Hard Pour Corn take no responsibility for any injuries incurred from attempting to replicate the following photographs.

Leave it to the professionals like SeptemberCarrino.com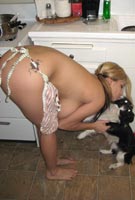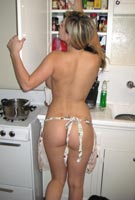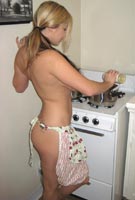 CLICK HERE TO VISIT SEPTEMBER CARRINO AT SEPTEMBERCARRINO.COM
But, but… what are we having for dinner, September? Something with chicken? A bit of thigh? Some nice succulent breasts?


Share and Enjoy
→ Return to MyBoobSite for More Big Tits ←