[begin geek rant] (feel free to skip this bit)
I am so bloody annoyed with Apple Computer that I nearly didn't blog today (had it not been for the opportunity to launch into a rant). You see, one of our computers – a relatively new MacBook – crashed in grand style this morning and I've spent most of the day trying to recover it as its dormancy alone has brought half of our business to a standstill. Honestly, though, the MacBook has been nothing but trouble since the day we got it and, having been "Mac people" since the mid-1980s, we've been seriously disappointed in their latest efforts (as have a number of friends and business associates who've recently migrated to this current generation of Macs).
The trouble lies, imho, in Apple's switch from the PowerPC platform to Intel processors (their excuse being that the G5 technology wasn't compatible with portable applications). Our old G4 & G5-based Macs perform brilliantly – in fact, they run circles around our new Intel-based MacBook. As a software developer, my disdain for the inferior array processing abilities of Intel and the laborious linked libraries of Windows runs deep, thus my reliance upon the previously superior Mac platform under OSX (a UNIX derivative). However, now that the PowerPC Macs have been sadly discontinued, all of my prior software development efforts targeting the wondrously fast AltiVec vector processing engine have been rendered suddenly and utterly obsolete.
*sigh* When the beloved dual-G5 PowerMac upon which I'm presently typing eventually gives up the ghost, I guess it'll be time to change platforms, with the current front-running contender being Sony's PlayStation 3 under Yellow Dog Linux. The reasoning is that the PS3 utilises the Cell Broadband Engine as its main processor, essentially the next generation of the PowerPC technology – the last being the Apple abandoned G5 – with each core containing seven functioning AltiVec engines (as opposed to the two found in my current PowerMac…which further means it's also largely compatible with my past vector coding efforts)! Yes, odd though it may seem, one day in the future may well find MyBoobSite being composed entirely upon a PlayStation.
Why couldn't Apple have simply been patient and waited for the Cell BE to come along, allowing them once again to have a vastly superior platform, rather than crippling their poor Macs with Intel? After all, the Cell is said to be fully compatible with mobile applications in addition to its presently pursued games console, workstation and supercomputing niches. But I suppose that the deed is done now, so I'll just have to accept my fate and deal with it. No use crying over spilled milk, as they say. So, sincere apologies for the raving geek rant – just had to get that off my chest – and I'll now return you to our regularly schedule program already in progress…
[/end geek rant] (see? don't you wish you'd skipped it?!)
In order to alleviate the stress caused by my Mac-induced misery, I decided that a distraction was in order…and who better than busty blonde bombshell Faith to take my mind off the trials and tribulations of the day? Getting lost in her G-cup breasts proved an effortless task indeed (especially since she seems to have finally got over the bizarre practice of putting stuff on her tits). Besides, it's the least I can do after subjecting you to the above off-topic rant. Ah, leave it to boobs to make everything better with the world. So, restoring the sanity in these technically troubled time, here's 32G Faith Nelson in a selection of HD videos from InBedWithFaith.com: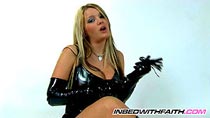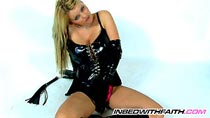 CLICK HERE TO VISIT 32G FAITH NELSON FROM INBEDWITHFAITH.COM

(webmasters)
Share and Enjoy
→ Return to MyBoobSite for More Big Tits ←