Hi, my name is Reese, and I'm a pussy-holic. Well, perhaps it's not that extreme, but it does seem that I've spend the entirety of the past several weeks being totally wrapped up in the moist, inviting folds of a warm pussy. Not any one pussy in particular, mind you, but literally any pussy that I cum across (see? I can't even write a simple sentence without reverting to prurient adolescent innuendo! indeed, I am presently a man obsessed).
In an attempt to reason my way through this current pussy craze, I narrowed it down to an experience at a Christmas party a few weeks ago. I was sitting on a bed casually stroking the inner thighs of this stunning 24-year-old girl who had laid down next to me. At length, I let my fingers do the walking up to her crotch and, realising that she wasn't wearing any panties, I leaned down to ask in a whisper if she was okay with what I was doing. She just smiled, nodded and spread her legs a little farther apart to allow me unfettered access to her clean-shaven naked nether regions.
I began stroking the tender mounds of flesh to either side of her vaginal slit with the backs of my fingers, careful not to brush up against the already swelling labia lips just yet. She closed her thighs a bit to draw my hand inward, so, not wanting to be branded a mere pussy tease by my new-found fondle friend, I ran two fingertips up the length of her long, wet slit and then lingered for a moment rubbing circles on her rapidly-expanding clitoris before brushing back downward to take her pussy flaps between my thumb and forefinger for a gentle massage.
Considering that she was now bucking her hips lightly upward to increase the pressure I was applying, I allowed my middle and ring finger to slowly slide ever further into her waiting vagina with every trust. Moving my thumb up to her clit, I slid by index finger in to join the others, curving it upward to apply pressure to her g-spot as I probed deeper with the other two fingers. Although she was young and tight, her vagina was so well lubricated from the past 20 or so minutes of my attentions that I was able to deeply penetrate her with relative ease.
Feeling the pre-orgasmic contractions constricting around my fingers, I laid my head on her belly, raising my thumb from her erect clitoris and replacing it with my tongue to taste the flow of vaginal juices gushing gently from between those swollen lips. Wanting to make the most of her experience, I pressed a trembling middle finger into the tiny doughnut of her cervix, all the while brushing across her g-spot with my curled index finger and flicking her engorged clit with the tip of my tongue. She came magnificently as I closed my lips around her clitoral hood and sucked her dry as the spasms of her orgasm subsided.
Ah, the memories. What struck me the most about this lovely young lady was the utter elegance of her cervix. I had just never encountered a cervical hump that was so perfectly formed. As she was cumming, it felt almost as if her pumping cervix was literally sucking my fingertip into itself. It was a most erotic feeling, and one that I'll not soon forget. And so, it is her whom I hold wholly responsible for my present pussy obsession (well, that's my excuse, anyway). The thing is, she had lovely large breasts as well, but there was nothing short of a herd of wild elephants that could've drug me away from that beautiful pussy.
Thus, I now consider myself a bit of a pussy addict. Not only did it get in the way of my appreciation for big breasts, but it's been interfering with my daily life, too. Case in point, my pursuit of pussy has precluded my regular television viewing habits, causing me to miss last night's episode of Channel 4's "How to Look Good Naked" wherein the host showed 23-year-old Lydia Rullow how to make the most of her 36HH boobs! It's a bummer, really, as I've thoroughly enjoyed seeing all of the big tits on telly we typically get here in breast-loving Britain. Eh, perhaps there'll be a repeat of the program soon (as Channel 4 is wont to do).
Speaking of 36HH boobs, that's precisely the bra-size of today's HH-cup honey, Eden Mor (the 80HH measurements cited on her Garden of Eden website being the metric equivalent)! Eden also holds the distinction of hosting the first porn site I'd ever subscribed to and continue to do so today. Originally, it was her big tits that drew me in but, since then, I've taken even greater pleasure just logging onto the site to watch Eden masturbating (which, "cum" to think of it, could quite possibly point to my predilection toward pussy predating that particular pervy party!).
I have to wonder, though, if it had been Eden I'd been wanking on that fateful December eve, would I have been distracted from her breasts as well? While the last photo in this series reveals that Ms. Mor indeed does have a pussy to die for (note to self: resist the urge to describe it as a succulent Kosher kebab packed with melt-in-your-mouth meat-flaps or you'll just embarrass yourself even further), it's hard to imagine anything tearing me away from those heavenly HH-cups. I'd certainly be up for the challenge, though, should such a once-in-a-lifetime opportunity ever emerge.
Before I lose myself completely in a land of fantasy and wishful thinking here, locked within this battle between big breasts and bountiful beef-curtains, I think it's best if I stop typing now and free up my hands in order to continue fulfilling my New Year's resolution through the following photos of Israeli lovely Eden Mor from her GardenOf-E-D-E-N.com website: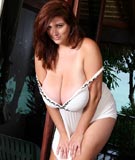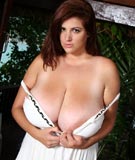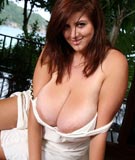 (note: actual photos downloadable from the site are 1024×683 resolution)
CLICK HERE TO VISIT 80HH EDEN MOR AT GARDENOF-E-D-E-N.COM

Share and Enjoy
→ Return to MyBoobSite for More Big Tits ←