Reese and I were talking about who gets to do the sucking and fucking in some of the Hardcore stuff we get to see. Who chooses these men? Where do they come from?
He saw this video from 18andBusty.com and cites it as a prime example, saying "I know I'm old and unattractive, but…" and you have to agree about the sentiment, after seeing this little film. (No, not agree that Reese is old and unattractive… I think that's subjective, but then, I guess I would say that).
I do know that it is not so easy to maintain an erection when you have an audience and/or are being filmed, for a lot of guys… you may think that it would be the easiest job in the world, but it's quite difficult to perform on demand – regardless of Viagra and the like. You have to be turned on for ED drugs to work in the first place, after all.
So, do these guys get the gig simply because of their ability to work under duress? It certainly isn't because they're attractive and desirable, that's for sure. And what about the poor woman involved? There's no magic drug to make sex more do-able for us… just lube and a smile. Good job Nekana, in this movie clip, can play the game.
(click here to download video preview)
Ok, just to cleanse the palette after that and to put some nice big boobs back on the screen, here's Olga from 18andBusty.com to make things a bit better. It might be because she is wearing something that looks to be more at home in the 1970's but I'd be curious to know what her relationship with the age 18 is. Does it count that "she was once"?
I am being a bit of a bitch, this morning. Sorry… go. Go look at the big, swinging, titties! ↓
Loading the player…
(click here to download video preview)
CLICK HERE TO VISIT OLGA & NEKANA AT 18ANDBUSTY.COM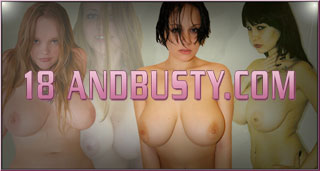 Share and Enjoy
→ Return to MyBoobSite for More Big Tits ←