It's been a while since I've launched into a good rant here, so I'm probably long overdue. I'd originally intended to post this blog on MyBBWSite, but then decided that would be like preaching to the converted. Anyway…
The story begins on a happy note the other evening when we were just sitting around watching the telly. It was between programs and the BBC was running one of their little 60-second news updates when this beautiful young brunette girl with reasonably-sized breasts appeared on the screen walking down a catwalk. The voiceover alerted us to the fact that this was Chloe Marshall, winner of the Miss Surrey contest and now the first-ever Size 16 girl to reach the Miss England final.
Although I generally question the value of such beauty contests, I must admit that I was most pleased to finally see someone shaped like a real woman with voluptuous curves and actual breasts – Chloe stands 5'10", weighs 12st8 (176lbs) and sports a 38DD bustline – not only entering but going on to win amidst an event typically dominated by "stick-with-tits" chicks harbouring Size 0 aspirations (if they're not there already) as are conventionally favoured by the mass media.
The following day, this article appeared in the Daily Mail along with photos of Chloe, who was quoted as saying, "I wanted to go through to the Miss England finals to break through the stereotype that you have to be tall and skinny. I wanted to make a bit of a statement. When I studied the other entrants for the Miss Surrey competition I concluded that pretty as the contestants were, they were equally all uniformly blonde and Barbie doll like." And, despite my not being a fan of beauty pageants, I thought that if Chloe's success in the contest circuit could help boost the self-confidence of just one other girl who didn't fit into the ultra-thin mass media model mold, then it would prove to be a most valuable exercise.
Then I had the grave misfortune of encountering the comments that readers had posted in response to the article…
"She's not going to win, its just a condescending sympathy vote."
"She may be 16 but she could pass for 30. And sorry, but being 16 and overweight – and she IS overweight – is nothing to be proud of."
"Yes she does look very pretty but she would look even better if she was slimmer. Does this reflect the state of the UK when even the beauty queens are now fat?"
…these incensed me to no end as, for all of the confidence-boosting potential that Chloe's success could engender for those "bigger girls" who encounter this story, these few thoughtless, stereotypical individuals have dashed any hopes of that happening merely by opening their mouths (or, more accurately, moving their fingers). They should be ashamed of themselves, as the only "value" (and I use the term loosely) their comments hold are in propagating public prejudice against "plus-sized" women. I'd submitted a comment myself, but it has yet to appear there.
After all (having now finished my rant proper and moving on to more selfish motivations), where would MyBoobSite be if it weren't for those larger ladies possessed of the self-confidence to share their beautiful bodies and breasts with us? Considering that busty girls built like Anya or Rachel are extreme rarities, I'd simply not have enough big boobs to fill my blog!
And so, inspired by Chloe's quest to encourage acceptance of the more natural, curvaceous figure through the beauty queen medium, I thought I'd take today to draw attention to some of the delightfully voluptuous women with huge breasts that we'd come to know and love here over the years – specifically 36JJ Maria Moore, likewise 36JJ Alicia Loren and 38K Bianca Bloom – courtesy of DivineBreasts.com…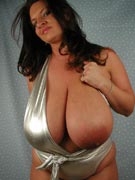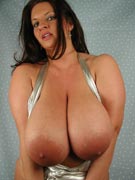 CLICK HERE TO VISIT ALICIA, MARIA & BIANCA AT DIVINEBREASTS.COM
…by the way, with regard to the latter model above, I should also take a moment to mention that Divine Breasts is currently running a special wherein, when you sign-up for a subscription with their site, you can get an additional membership in Bianca Bloom's personal Playmate Site for just $4.95 extra! Click the banner below to visit the site to find out more:

(webmasters)
Share and Enjoy
→ Return to MyBoobSite for More Big Tits ←