Apparently, there's been a debate raging at PinUpGlam over the accuracy of Rachel Aldana's bra-size as cited on the site. Always ones willing to take their members up on a challenge (like when they proved Jana Defi was all natural using a sonogram some time back), they got out the measuring tape and put Rachel's almost unbelievably huge breasts to the test with 36F Jelena Jensen on hand to tell the tale of the tape.
Now I know I've mentioned this once or twice in my responses to comments before, but I'll reiterate: In terms of our "F-cup & Up" credo, MyBoobSite adheres strictly to the EN 13402 European Standard for bra-sizing which calculates cup-size based upon the differential between one's under-bust girth and their "breast prominence" (I do so like that term, even though it's just a fancy way of saying "bust-line").
Thus, I figured it might be fun today to get to the bottom of Rachel's cup-size conundrum by comparing her measurements to our established standard using these handy high-definition vidcaps from her most recent video posted at PinUpGlam.com as a reference…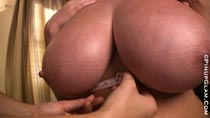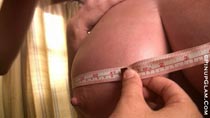 …so, as these two vidcaps show, Rachel has an under-bust measurement of 30 inches (~76cm) and her bust-line (or shall I say breast prominence?) measures 41.5 inches (~105.5cm). Based upon our EN 13402 Standard, she'd fall right near the cusp between a J-cup and a K-cup (since most brassiere manufacturers skip the I-cup altogether and move straight on to J). Thus, I'd probably put her in a 75J or 75K bra, so the 30K bra-size she's cited as having in these videos is totally reasonable when we convert the centimetres to imperial units.
However, plugging Rachel's breast stats into several of the rubbish on-line bra-sizing calculators, I obtained results ranging from a 34FF to a 34H! However os a woman supposed to determine their correct bra size with any accuracy? And calculating it manually using the old system of adding four or five inches to the under-bust measure (depending upon whether the result is even or odd, respectively) to determine band-size and then using the differential between that and the bust-line for cup-size would just result in a baggy bra with too small a cup. No wonder statistics have shown that over 80% of women are wearing the wrong bra size!
I do so wish that all of MyBoobSite's models would provide such detailed breast measurements as Ms. Aldana has so conscientiously done. Most of the big boob measuring videos I've seen just give the bust-line. If I had both of these measurements, I could put all of the cup-size debates that have cropped up here to rest once and for all! [Thus, if any girls out there would like to provide me with pics of their tits being measured in the same manner as the two examples above (or you can just do it yourself, if you like), I'd be happy to include you in the permanent EN 13402 reference page I'm going to post explaining MyBoobSite's standards! ;~)]
But back to the video, although Rachel & Jelena went through all sorts of superfluous measurements well beyond what's needed simply to determine her bra size (such as measuring Rachel's areolas (which are 5cm (~2in), btw) and then becoming confused over the conversion between metric & imperial), I've decided to focus upon the two bits that count in today's video clips. Thus, here's formerly 32K Rachel Aldana measuring her breasts with the assistance of 36F Jelena Jensen courtesy of PinUpGlam.com: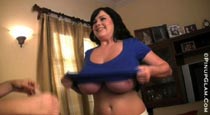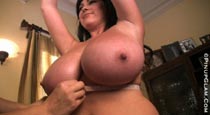 (note: actual video downloadable from the site is 852×480 HD video resolution)
CLICK HERE TO VISIT 30K RACHEL ALDANA AT PINUPGLAM.COM

[Special Offer: If you sign up as a member to PinUpGlam.com, you can get a membership in the other site upon which Rachel appears - PinUpFiles.com - for only $10- more! Check out the joint membership option on their join page for further information on registering for this 25% multi-site discount.]
Share and Enjoy
→ Return to MyBoobSite for More Big Tits ←