Buggery bollox – nothing seems to be working here at the moment! :~( I'm not receiving any of your comments nor is my "reese" e-mail address working any more. Thus, I am doomed to a life of quiet isolation until all of these new server farm issues get sorted. The only shining light amidst the mayhem is that I'm still able to blog, and so I'm not forced to keep all of these big tits to myself (more's the pity). I do so miss getting your feedback, though, so I'm keeping all of my appendages crossed in the hope that all this gets sorted out soon.
In the meanwhile, today's post was inspired by a comment that the lovely Samantha38g had posted on her birthday blog (oh, how I miss receiving comments) within which she'd thanked us all for the kind birthday wishes before addressing one specific opinion from "b8ck5″ that she belonged on my BBW site rather than here. Sam rightfully replied that she belonged on both, citing her appearances on Big Naturals & Big Tits Round Asses within the big breast niche as well as Hot Sexy Plumpers & XL Girls in the BBW niche as evidence of her broad appeal in both categories, followed up by the fact that she'd been featured here on MyBoobSite long before MyBBWSite even existed!
And I couldn't agree with her more. Samantha, indeed, definitely has what it takes to satisfy everyone (why, even "b8ck5″ admitted a fondness for her in his cheeky comment) and, in addition to fitting in perfectly with both the big boobs & BBW niches, she's simply a beautiful woman all around! So apologies, Sam, for feeling you had to defend your place on MyBoobSite or even take the time to consider that decidedly injudicious remark! I assure you, as long as I remain in charge of the content on MyBoobSite, you'll always have a secure and appreciative home here.
Speaking of porn niche crossovers, it seems that our Sam is now working her way through the MILF porn niche as well! In that same reply Sam had left on her birthday blog, she added, almost as a postscript, "If ya'll want to see a funny trailer, check out www.milfsoup.com. My scene was a hoot." So, having never so much as heard of the site before and instantly bemused by the name (you can but imagine the various recipes that were running through my head for a nice, hot cuppa MILF soup), I decided to check it out!
While the trailer to which Sam referred was exceptionally funny and the site itself proved to me a remarkable repository of hardcore MILF porn, what I found even more exceptional were her photos there. Honestly, I don't believe I've ever seen Sam look more stunning! In order to show you what I'm talking about, here are a few examples from her staggering series of 682 photos before things get down & dirty, courtesy of MilfSoup.com…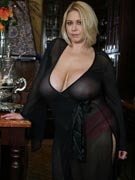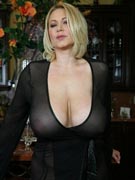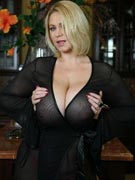 …ah, but on with the naughty bits! Although we've already seen her trailer, I thought I'd pick out a few more choice video clips from the MILF-centric, mammary-laden movie which accompanies this huge photo series (because, frankly, I felt that we could all do with a little more blowjobs and tit-fucking – not to mention seeing more of the lovely Sam in hardcore action). So, once again, here's sexy Samantha 38G in videos from MilfSoup.com: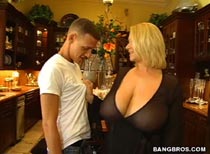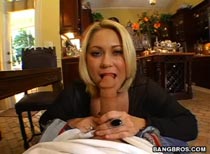 CLICK HERE TO VISIT SAMANTHA38G AT MILFSOUP.COM

(webmasters)
Share and Enjoy
→ Return to MyBoobSite for More Big Tits ←