I woke up this morning (well, this afternoon, if you must know) wondering just exactly what it was that attracts me to particular girls I'd like to fuck. First off are the obvious physical factors: Big tits are a given, of course, but I also like well-endowed women with a voluptuous body (not too big, mind, but with just enough surplus fat flesh to be cuddly in bed) and a cute face framed in long blonde hair. A fair few psychological factors enter the attraction equation as well: I tend to go for a girl who's funny, intelligent & slutty in the promiscuous sense with plenty of torrid tales to tell from her sordid sexual history.
However, as my preponderances progressed with respect to the rules of attraction, I also came to realise that there were a few highly specific physical characteristics that curiously caught my eye as well: Specifically, it's a girl's eyebrows. It was my wife's eyebrows through which I'd first noticed this early on in our relationship before her breasts grew to their current proportions. Naturally raised and slightly angular (her eyebrows, not her tits, although the latter would be somewhat amusing), there's just something about them that screams out sex in an insatiable "fuck me now" sort of way.
Well, I'm pleased to say I've just encountered another woman who fulfills my erotic eyebrow fetish – gorgeous G-cup Melli D from Busty Brits…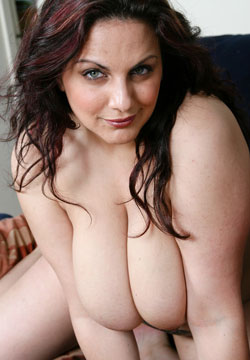 …it's a good thing, too, since my search for erotic eyebrow porn yielded nought in what I assumed would be a fairly popular niche – although I was able to do a nice bit of background research on the sensual eyebrow shape I found so irresistibly alluring. Anthropologically speaking, it turns out that there are only six basic face shapes with the rarest among these being the diamond shaped face widest at the temples which also seems to be the face shape upon which I see such angular eyebrows occurring the most!
That said, despite its masculine implications leading one to question their sexuality, I'm also quite partial to a girl with a square jaw as I find that his complements the fine facial features of a sublimely sexy diamond shaped visage with angled eyebrows to a most rarefied state of physical perfection. Movie actress Michelle Pfeiffer provides a stunning example of this chiseled appearance and further serves to reveal the surprising secret of why I find her so damned attractive despite having relatively small tits on an otherwise perfectly fuckable body (cool, yet another mammary mystery solved!). Oh, and Uma Thurman is another one who fits my personal impressions on the ideal female facial structure as well in terms of feminine sexiness.
But I've blogged on enough about fine facial features for today. MyBoobSite is supposed to be about big breasts – not jaws & eyebrows – so I'd best get on with the tits. However, this doesn't mean that I have to stop indulging in my erotic eyebrow fetish either as 32G Mellie D so ideally demonstrates in these lovely big boobs sexy eyebrows porn pics from BustyBrits.com: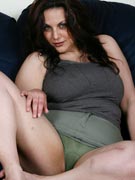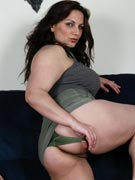 (note: actual phoos available for download at the site are 1500×1000 resolution)
CLICK HERE TO VISIT 32G MELLIE D AT BUSTYBRITS.COM

Share and Enjoy
→ Return to MyBoobSite for More Big Tits ←