Neither Reese nor I knew who Vanessa Y is. For shame. So we looked her up, as you do. This is what we found out:
Stats: 42-26-38
Bra Size: 36E
Weight: 142 lbs (10st 2lbs / 64.41kg)
Height: 5′ 6″ (1.67meters)
So we have discovered why we are not familiar with Vanessa. She's "just" an E-cup. I believe that Reese's original (and our ongoing) policy is F-cup or bigger.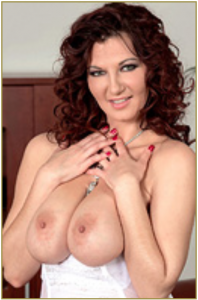 So, that was then, this is now.
I wish I had the voluptuous Vanessa's current measurements, but I'd say she is now policy approved, having gained a little weight – in all the right places.
In this set, Vanessa is filling her fanny with two (or is it three) fingers as she deftly diddles herself with her dexterous digits.
On all fours, as if being fucked doggy-style, we see her heavy hangers swinging back and forth, just like you would if you were a woman, whilst getting that rear entry fucking and watching in a mirror.
I expect you'd see the same as the male, were you to be the man banging against her butt. Stuffing your stiff schlong into her slidy slit. But I haven't been the one with the cock an' all, so I don't know.
I just know that I like to watch my tits ebbing and flowing. Slapping together or swinging left and right, changing direction of occilation with just the slightest amendment to the positions of our naked, conjoined bodies.
But I digress. Here's the beautiful, bigger-breasted Vanessa: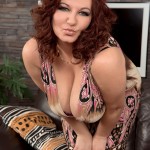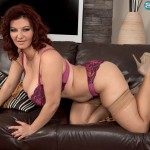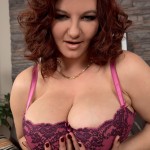 Click here to visit Vanessa Y. at Scoreland.com
I am hoping some of you could fill us in a little more about the new and improved Vanessa.

Share and Enjoy
→ Return to MyBoobSite for More Big Tits ←