Looking through my posts over the past month, one might well think that I've gone soft on hardcore porn. Apart from my Tera Cox blog and it's followup, there's been no serious boy-girl action since I blogged Maria Moore fucking this day last month! So I figured it was high time I rectified this before anyone gets the mistaken impression that I've gone off sex for good.
And what could be more hardcore than these nice groupsex gangbang videos I found during my last visit to Claudia-Marie's website? In it, our lovely blonde busty mature MILF and her mate, veteran pornstar Kayla Kleevage (whom I well remember from her Score days and who hails from the time when the only models with unfeasibly large breasts, apart from BBWs, were largely supplemented with silicone or silly string à la the retro big tits models at Photo Clubs), collect a caboodle of black men to take back to their hotel room for the fucking! An orgy of carnal delights soon ensues amongst this MMMFF fivesome and much oral & anal sex, tit-fucking, double-penetration and doggy-style spit-roasting is enjoyed by all (not to mention a few little lesbian interludes between Claudia-Marie & Kayla).
Apart from the interracial aspect of these videos, the whole scene seriously reminds me of my wedding night! We'd buggered off early from the reception with four friends in tow, all of whom were staying over at ours. As the evening wore on, things began to get silly with everyone, male and female alike, taking turns trying on Vix' latex dress and, from there, the whole gathering just degenerated into an all-night orgy of group sex with Vix, myself, two of the guys and one of the girls taking to the floor in a tangle of limbs whist our remaining Platonic female mate just sat back at the sidelines as a voyeur and enjoyed the show.
By 3AM, I was utterly exhausted and took the other girl to bed (for sleeping, oddly enough!), leaving Vix and the two other blokes to carry on in the living room. I had just barely fallen asleep when I was startled awake by a sharp shriek. Jumping out of bed and rushing back into the living room to see what manner of deviant sexual behaviour the tireless threesome were up to, I discovered to my horror that, rather than fucking, they'd been engaged in a "pull my finger" contest! And even more frightening was the fact that Vix had won!! So much for fond memories of a sexy wedding night… :~P
But enough of my belabouring you with post-matrimonial reminiscence and back to Claudia, Kayla and their assembled banquet of black cock. In fact, I've probably said more than enough for today so I'd best just get on with the videos (and, even it you're not into the whole groupsex scene, these videos are also quite useful in providing a good physical study on the differential dynamics of big naturals vs. fake tits whilst fucking!). Thus, here's the lovely self-proclaimed "Big Titty Southern MILF" Claudia-Marie and pornstar Kayla Kleevage in a generous selection of interracial gangbang video galleries that come courtesy of Claudia-Marie.com: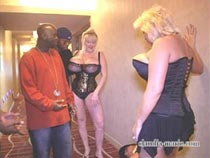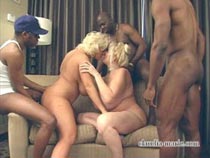 CLICK HERE TO VISIT CLAUDIA MARIE & KAYLA KLEEVAGE AT CLAUDIA-MARIE.COM

(webmasters)
Share and Enjoy
→ Return to MyBoobSite for More Big Tits ←