I was reading an interesting article in this week's Guide, the weekly television supplement from The Guardian newspaper, regarding the typical male's competitive compulsion to create personal toplists for things like models, films or albums. Specifically, this article centred upon some new list show attempting to pick the greatest dance floor hit of all time (which, of course, would be Godley & Creme's "The Room is Ready for Ralph"). However, there was one quote – highlighted in pink and set apart from the rest of the text – that really got me thinking: "Trying to identify the best dance record of all time is like picking your favourite orgasm."
My mind immediately wandered to all of the orgasms I've enjoyed throughout my life. Thoughts & images of past handjobs, titfucks, blowjobs & pussy fucking flooded my sex-addled brain in chronological order – from the very first time my best mate's girlfriend casually grabbed hold of my cock and began jacking me off, causing me to cum buckets all over myself from the first immensely horny feel of an unfamiliar hand, to the first "successful" blowjob I'd received to the first exquisite experience of cumming inside of a girl's pussy to my first titfuck, the latter of which didn't occur until much later in life due to the challenge of finding a pair of boobs big enough to pull it off (pun intended) to the present – and, being male, I naturally began ranking them in toplist fashion.
With oh so many excellent orgasms having occurred throughout my sexual history, I'm embarrassed to admit that it actually took a few days of carnal contemplation to come up with what I considered to be the best. First, I narrowed it down by category, separating out the titfucks from the blowjobs from the handjobs and the like (how sad am I?). I soon concluded that, although I enjoy the firm grip of a good handjob and the cock / cleavage interface of a tight titfuck, my orgasms had always been more intense when cumming inside of a girl's mouth or pussy (who knows? it could just be the implied intimacy of invasive internal penetration).
So down to fucking & sucking, I began creating a further mental checklist comparing & contrasting the orgasmic potential of each. Whilst both offered the benefits of built-in natural lubrication and are decidedly less messy in terms of cumshot clean-up (especially in the case of girls who swallow), pussy sex provides the unique texture of a girl's vaginal wall massaging your penis combined with the cock-crushing contractions of her own orgasm (the latter of which rarely fail to send me over the edge in a cum explosion). On the other hand, with oral sex I get the added erotic stimulus of the girl's tongue licking up & down the length my swollen shaft and teeth scraping against the sensitive underside of my cock, not to mention the immense suction power of her mouth (and I do so enjoy having my frenulum sucked during the course of a nice, sloppy blowjob).
Ultimately, it was blowjobs that won out in the end, with one in particular standing out as my best orgasm of all time: Vix & I were sleepily spooning naked in bed, her tits pressed against my back (she usually prefers it from behind) with her arm draped over my torso so she could lazily toy with my genitalia (I've even awakened from time to time to find her wanking me in her sleep, leaving me to wonder what wet dreams she might be having). This time, however, she tightened her grip and used my cock as a handle to roll me onto my back, after which she mounted me cowgirl-style and commenced grinding her already wet pussy over my now throbbing erection, soaking it in her vaginal juices. This lasted for but a moment, as she soon repositioned herself, kneeling between my legs and licking my cock clean before sucking it hard into her mouth.
She held my spread legs down with her hands on my thighs and began bobbing her head up & down eagerly over my crotch, her lower teeth grazing my frenulum with every thrust as her talented tongue traced circles around my cock-head. Indeed, with all of the combined oral stimulus, it wasn't long before she received the desired "hot drink through a fat straw" (which is how Vix referred to blowjobs when I first met her), sucking me harder than ever as seemingly endless waves of cum washed over her tongue and down her throat as she swallowed every single spurt of semen. Even after I'd finally blown my load completely, she kept hold of my spent cock in her mouth, now sucking me off more gently whilst lightly massaging its underbelly with her cum-soaked tongue and waited patiently until I at long last went limp within her (whereupon she loosened the grip of her lips on my flaccid shaft, laid back down, rolled over and promptly fell asleep).
And that was it – my absolute best orgasm of all time. However, everyone's different and might not think blowjobs to be the be all and end all in terms of ejaculation locations. And so, I've prepared a little poll to find out what manner of sexual activity triggered your favourite orgasm. To demonstrate the various erotic possibilities in question, I've enlisted my favourite busty MILF who does it all with no-holes-barred (whom you may well remember from our last poll), 34FF Kelly Madison from KellyMadison.com…
1. The Handjob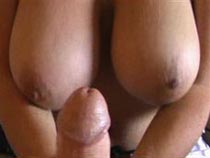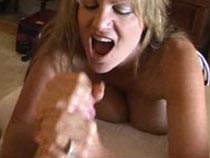 2. The Titfuck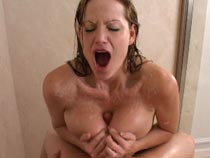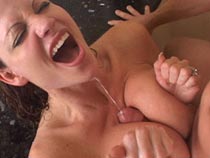 3. The Blowjob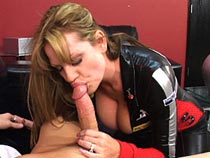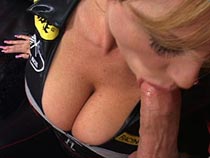 4. Anal Sex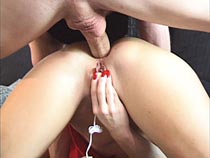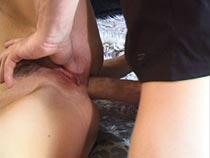 5. Vaginal Sex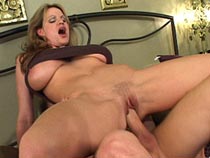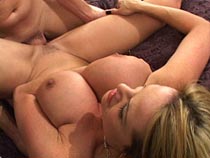 CLICK HERE TO VISIT 34FF KELLY MADISON AT KELLYMADISON.COM

(webmasters)
…granted, there are far more possibilities for achieving orgasm than the five exemplified above (i.e. footjobs, belly-fucks and the like), but I figure these would be the most popular. However, should your favourite cumshot have come from something completely different (thus the sixth catch-all category), please take a moment after you've cast your vote to leave a comment to let us know what particular perversion provided this ultimate orgasm so that we can all try it ourselves: ;~)
.
.
.
MyBoobSite Update April 17th, 2009: Oops, wait a minute, I've got to change my answer now (although the poll won't let me) as I've just had the most amazing orgasm of my life and it came from getting a handjob! :~o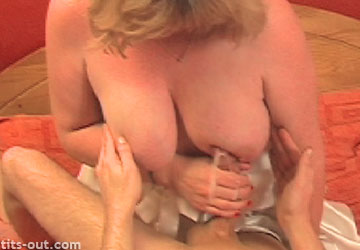 Share and Enjoy
→ Return to MyBoobSite for More Big Tits ←