As she's effectively the spokesmodel for MyBoobSite, I feel almost shameful that I haven't mentioned Eden Mor here in nearly a month and a half. Seems I just have too many other big tits taking up my time as of late. But Eden, being one of my all-time favourites, certainly deserves more coverage – especially since she's been getting so much more adventurous on her very own website!
You see, it appears our Eden's recently become a bit of a wanker (and I use that in only the most loving, respectful and positive sense of the word). In her last video that I blogged here, we saw a hint of her penchant for masturbating in one of the clips. However, it now seems that Eden just can't keep her hands off of her pussy! But, let's be honest, who can blame her?! I've been longing for a taste of her luscious flaps since she first revealed all for Score, and the fact that Eden's now letting us enjoy so much more than merely her 80HH boobs on her own site is truly cause for celebration.
Today's first video starts out innocently enough with the voluptuous Ms. Mor traipsing carefree through a field. While I don't particularly fancy the dress she's wearing, it certainly does maximise her wonderful HH-cup cleavage. Then, after a bit of big breasts bouncing and a clever demonstration of her unusual talent for suspending a whole melon between her melons, Eden gets down & dirty. Once her hand slides surreptitiously into her panties, she's well away for the rest of the video…and, being the fan of female masturbation that I am, I loved it (although I must admit feeling a twinge of jealousy when Eden reaches her hand up to her mouth to taste her own pussy).
So, from the Gardenof-E-D-E-N to you, here are a few video clips of the lovely Eden Mor wanking away for our mutual pleasure…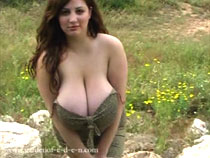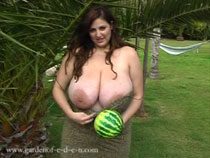 …but that's not all! In the most recent video posted on Eden's site, she even invites a man to join in fondling her breasts!! While she's been into women for quite some time, this is the first male presence I've detected on her site. Keep it up, Eden, we love you…and you're just getting better and better: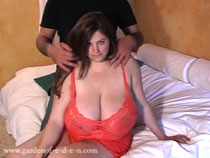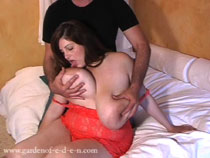 CLICK HERE TO VISIT EDEN'S "GARDEN OF EDEN" WEBSITE