In today's blog, we shall delve into the bizarre world of breast parasites. This terrifying topic was inspired by an e-mail I received this past weekend from one of MyBoobSite's regular visitors: Spencer wrote, "Hey Reese! Fantastic site and blog. You are the St Francis Xavier of us poor, lost tit-hounds. A pillar of smoke by day and a column of fire by night — the kind of hero that reduces us grovelling acolytes to mixing our metaphors. However… something disturbs me. I try to avert my eyes, but every day, there it is again. WHAT IS THAT THING IN YOUR HEADER????!!! It freaks me out, man. It's starting to invade my dreams. Please make it stop. Thanks. Your loyal fan, Spencer"
Attached to Spencer's e-mail was a photo of the offending "thing" (if you are easily frightened or prone to nightmares, I would most strongly suggest you do not click this link, as I've taken the liberty of enlarging and enhancing the creature in question). This mammary menace is commonly known as a "cleavage crawler", seeking out big boobs and then nestling its cephalothorax between the breasts whilst maintaining a firm grip on the surrounding tit-flesh with scary arachnid appendages. As many of you know, the cleavage in MyBoobSite's header belongs to my wife, Vix…so imagine my abject horror in knowing that we, ourselves, are infested with these within our very home!
Spencer, as much as I appreciate your kind comments and would like nothing more than to accommodate you and get this denizen of dairy delights banned from MyBoobSite, I fear that this would inspire its hideous wrath upon me. And, as I don't have breasts of my own, the only other place I can imagine it taking parasitic residence is within my ass cleavage, exerting its death-grip upon my bum cheeks and invading my rectal region with that penis-like protuberance it possesses in place of a head. :~o Thus, I must respectfully decline your request for exclusion and offer my most humble, sincere apologies for the nightmares its presence here has caused you.
But since we're on the topic of "breast invaders", I feel it my duty to alert you to the existence of yet another boob-dwelling beasty that I encountered on a recent expedition to DivineBreasts. I was perving my way through their latest photo shoot with the stunning 32G Anya (née Busty Merilyn Sakova) when I suddenly saw a pair of puffy purple parasites with fluffy, festive feathers sucking her nipples! Don't let their benign appearance and pretty plumage fool you, however, these notorious nipple nibblers are every bit as invasive as the comparatively-creepy cleavage crawler (for one, they needlessly obscure our view of Anya's aureolas). Here's a handful of photos from Anya's most recent release on DivineBreasts.com…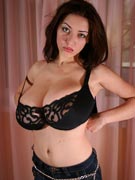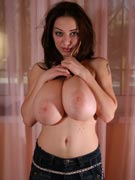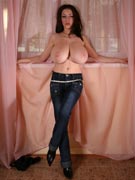 …speaking of odd things getting on (or in) your tits, I also found the following video of Anya at DivineBreasts wherein she can be found tit-fucking a floor-mounted dildo! Granted, it's not an autonomous organism like the other big breast invaders featured today, but it did seem to vaguely fit in with the theme. Erm… I'm reaching here, aren't I? ;~P Be that as it may, here are a few brief clips from the videos: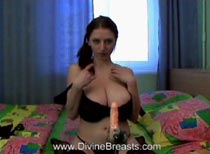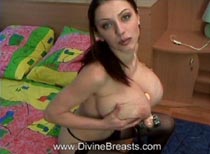 CLICK HERE TO VISIT ANYA 32G AT DIVINEBREASTS.COM
(webmasters)