I love sex. In fact, it's fairly safe to say that I'm totally obsessed with sex since rarely does a minute go by that my brain isn't invaded by some manner of sexual imagery involving fantasy fucks past, present or future (often resulting in an embarrassing spontaneous erection at the most inappropriate of times). It's just a damn good thing I'm fortunate enough to make a fairly decent living as a prurient purveyor of porn as I'd no doubt fail miserably at a regular job because, invariably, I'd probably just be thinking about fucking all the time and not getting any realwork done!
Even my leisure time is completely consumed in carnal contemplation. Why, just this past Saturday, I woke up with blowjobs on the brain. As there was no one awake to attend to my sudden oral sex fixation and with my self-sucking skills having sadly diminished with advancing age, I had no recourse but to turn to porn. I fetched out my iPod – or "pornPod", as I prefer to call it – and began watching my favourite blowjob video and started wanking with my wife sleeping serenely beside me. I didn't cum masturbating, though, as I'd figured I'd be better off saving my jizz should the serendipitous opportunity of getting a real blowjob rear it's horny head sometime later on in the day.
My porn pod battery now well & truly drained – unlike my balls which, in somewhat painful contrast, were cum filled to capacity and fit to burst – from repeated viewings, I got out of bed and went to the computer in hopes of finding something more prurient to help satisfy my insatiable sexual desire for a good sucking and, slut loving sex crazed pervert that I am, I glanced over toward my sleeping nude wife while my thoughts turned to all the other lucky guys she'd sucked off to completion in the past. I began searching my hard drive with frenzied fervour for photos of her giving the odd blowjob to random blokes intent on finding irrefutable pornographic evidence of those erotic instances whereupon her casual cock sucking escapades had resulted in getting a glorious glistening load of cum on her face when said fellatio fuck buddy exploded in oral orgasm with his throbbing cock comfortably enclosed between her sweet lips and wankingly wondered what it would be like to get a sloppy seconds blowjob.
Things went well and truly tits up from that point forward as I nearly jizzed in my pants (well, my bathrobe, as I hadn't bothered to get dressed yet) as I imagined the perverse possibility of popping my penis into her cum-filled mouth to add to the mix of saliva and semen already residing therein. 'Twas whilst my mind was wandering in this wank-worthy direction that the wife awakened. However, rather than offering me a blowjob as a good morning greeting (why don't women do this?!), she was moreso intent on sex so I stripped naked and hopped back in bed. After a fair bit of foreplay wherein I spent an inordinate amount of time fingering her flaps – which provided me with a pleasant diversion from my oral obsession as I satisfied my pussy lust lost in the land of lovely labia lips – my conversely cock hungry wife, freshly awake and just eager for a fuck – mounted me cowgirl style and commenced carnal copulation in the customary "Vix on top" familiar format of fucking.
Her labia now otherwise occupied, I had no choice but to go back to thinking about blowjobs. Sure, I was fucking – and a fabulous fuck it was indeed – but I nonetheless held back the straining floodgates of my own impending orgasm (despite her intense vaginal contractions considering she'd cum quickly as a result of all the extended flap fingering foreplay earlier on) in the rapidly diminishing hope of still getting sucked off in the end. As she carried on humping me post-orgasmically, I struck up the courage to politely ask her if she wouldn't mind sucking my cock instead.
She dismounted and promptly went down on me face first – my cock well basted in her vaginal juices – for that blowjob I'd been dreaming about all morning. Fit to burst from the effort of holding back on my orgasm fuelled by the fantasies I'd indulged in earlier (not to mention the sly wank I had whilst watching her blowjob video), I just let go and came quickly to enjoy that fantastic fellatio feeling of my phallus shooting off a hot load of cum down her throat. Still genitally hypersensitive from ejaculation, the heightened sensation of having my penis compressed tight in the pressure of her tongue & soft palate as she swallowed my semen hard was almost too much to bear! She then just kept on sucking and sucking to drain my refreshingly relieved balls of every last drop of cum I had to offer.
It was what happened next, however, that shall doubtlessly haunt me for the rest of my hypersexual days in the lurid lifelong quest of lusting after dirty sluts & naughty nymphomaniacs with an insatiable craving for cock. She sat up in bed smiling that sweet post-blowjob grin and, with the evil laugh of some sexy self-satisfied succubus, raised her hand and slapped my cock – still standing at turgid attention – so hard it felt like my poor phallus had been dipped in a Dewar's flask of liquid nitrogen and then hit with a hammer to shatter in little penis pieces all over my belly (heh, kinda gives a whole new meaning to "Reese's Pieces", doesn't it?!)! :~o
But I'm sure by now you're all bored hearing about my boring sex life, so I thought I'd better start talking about something else. Still, you've got to admit that nothing beats a blowjob and, this being MyBoobSite after all, that getting blowjobs from girls with big tits affords the added bonus of her hefty breasts resting in your lap as she sucks your cock! Who better, then, to demonstrate the dairy delight of this profoundly pleasurable phenomenon than 36J Simone from the flagship Plumper Pass family of BBW porn sites? Although, unlike my own recent experience as post-sex suckee, Simone summarily dispenses with all the naughty niceties and just goes straight for the cock! Here she is going down on her boyfriend and getting right down to the business of giving head in beautiful big boobs blowjob photos from PlumperPass.com…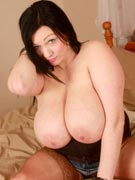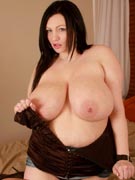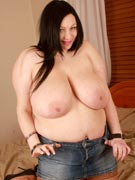 …the video that accompanies this busty blowjob shoot is rather cute as well (understanding that "cute" is not a term typically applied to porn). It starts out with Simone and her boyfriend in bed perusing over a porn magazine and commenting on the content therein as he casually fondles her tits with one hand slid slyly beneath her sexy top. While he acknowledges that Simone has bigger boobs that the busty magazine model their perving over (and, fortunately, not the hairy ass with which they're unfairly attributing to her), he goes on to surmise that she might be good at sucking cock as well (but, in all honesty, however can one tell how good a girl is at giving a blowjob from a mere photo? surely it takes a video to make such an assessment!)!
Crestfallen from her boyfriend's hypothesis and always of for a challenge – especially when there's sex involved – Simone quickly retorts by taking his limp dick well in hand (obviously, the model isn't having that much of an impact on him or he'd already have a raging erection!) and starts sucking his flaccid phallus until he's primed and ready for the big tits cock sucking of his life! She carries on with this decidedly skilled demonstration of her amazing oral acuity for nearly 20 minutes (I do so love a long blowjob!), her lovely huge breasts laying luxuriously in his lap, pausing only occasionally to rest her sex weary mouth muscles with a gorgeous J-cup titfuck.
Ah, but I've written far more than enough for today already and am sure you'd all rather watch the videos rather than enduring my incessant rambling for a minute more. And so we shall. Once again, here's lusty busty plumper 36J Simone sucking cock with aplomb in these splendid big tits blowjob videos that come courtesy of PlumperPass.com: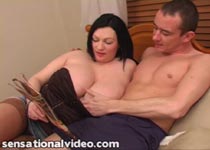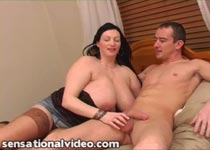 CLICK HERE TO VISIT 36J SIMONE AT PLUMPERPASS.COM

(webmasters)