When I first blogged Chloe Vevrier earlier this month, I was awe-struck by the amount of raw sexual energy she'd infused into her website, ChloeVevrier.com. However, being a newcomer to her site at the time, I had no idea of the true depth of this woman. At the risk of sounding heretical, I dare say that her intellect and insight have become as much of a turn-on for me as her incomparable 36GG breasts!
I knew from the outset that this was Chloe's own personal site…I just didn't know quite how personal it was until I'd had the opportunity to spend some time there. Sure, she's appeared in numerous magazines and on other websites, but the words accompanying the photo shoots were not her own. It's a shame, really, because Chloe possesses a unique talent for sensual self-expression that rivals the best erotic authors (and the fact that all of her writings come from her own sexual experiences and fantasies makes it all the better!). Although her prose is peppered with misspellings, it's easy to forgive when you realize that English is German-born Chloe's fourth language.
As one might expect, a good measure of Chloe's sensuality revolves around her boobs, and to hear something like breast sex described genuinely and explicitly from the female perspective is positively breathtaking! Honestly, it's worth joining her site just to vicariously experience the unique pleasure a woman derives from masterful mammary manipulation…not to mention picking up a few good tips along the way for the next time you've got some big boobs about that you want to impress!
And that's only the beginning. It would be so easy to classify our Chloe as a nymphomaniac, judging by the raw carnality of her Loveschool writings, but that would belie the true depth of her passion. To say that the girl loves cock, for example, is one thing (and an accurate one, at that), but her "Penis, My Love" essay borders on the poetic! To top it off, her personal diaries are some of the best I've ever encountered on-line, inviting you to be a part of her life through words and pictures. It's a dangerous site, really, as you soon find yourself feeling as if you know Chloe more intimately than you know yourself. She truly lets you get a glimpse inside of her, in more ways than one! ;~)
Then, of course, there are the images…and, I have to hand it to her, the sheer intensity of Chloe's sexuality shines through in these as well: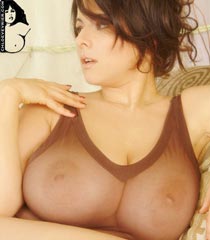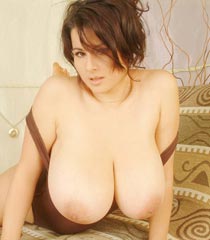 Oh, and in addition to the 6,000+ photos on Chloe's site, she also provides a generous collection of over 100 movies. Here are a few clips from her "Garden Nymph" video: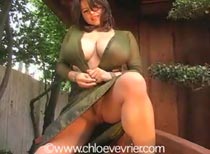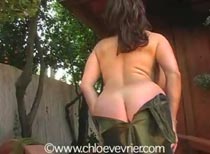 CLICK HERE TO VISIT CHLOE'S WEBSITE