Apologies to those who feel they've been misled, finding this particular entry via search engine or having read only the title, but I must confess up front that it only features one girl: the exceptional Eden Mor from her "Garden of Eden" website. In my defense, however, there are eight photos of her featured below and I have seen Eden dressed as a maid. Then again, she's not lactating (as per the titular reference).
Truth be told, it's been extraordinarily difficult coming up with suitable Christmas-themed titles for these holiday blogs. Whilst I was agonizing over this one, Vix sprang to assist: "How about 'Deep and Crisp and Eden'?" she offered, referring to the line from Good King Wenceslaus. Clever as it was, we both agreed that Ms. Mor probably wouldn't have found it very flattering.
It used to be so easy when I was young. My father & I would incessantly come up with alternative lines and lyrics for various Christmas carols and poems. My all-time favourite from those days had to be from our adaptation of 'Twas the Night Before Christmas: "Away to the window I flew like a flash, tore open the shutters and threw up – kersplash! " But, alas, those days are gone.
Be that as it may (and it very, very well may be), my failures certainly can't detract from the beauty of today's selection of Christmas boobs: the incomparable 80HH (that's metric, mind) Eden Mor. For some some reason, I found the photos wherein Eden bites off the head of the disturbingly dildo-shaped chocolate Santa unusually erotic, and shall probably suffer wet nightmares from this for the remainder of the season: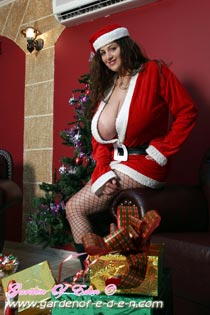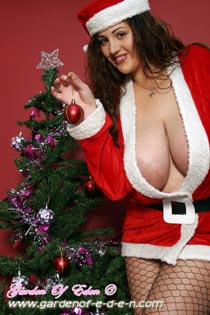 CLICK HERE TO VISIT EDEN'S WEBSITE