Since late January, visitors to MyBoobSite have been relentless in encouraging me to feature busty Japanese teen Fuko in my blog. Trouble was, I couldn't find any sites upon which she appeared who would grant me permission to post her pics. These unfortunate circumstances changed, however, when I encountered the following photo on a site called "Busty Asians"…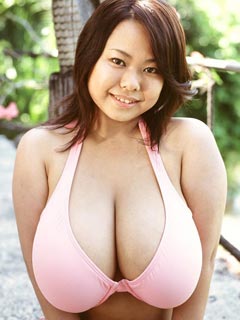 …now, although the bikini-clad busty Asian model appearing in the photo was identified by Busty-Asians only as "Japanese AV Idol with Gigantic Natural Big Tits", I was fairly certain this was Fuko (and a visit to her BoobPedia entry helped to confirm this, as they use precisely the same pic in her profile!).
With measurements of 47-24-35 and P-cup breasts, 19-year-old Fuko is definitely an Oriental oddity with a bust-size that far surpasses that which is typical in her culture. It's no wonder she's reached cult superstar status amongst big breast lovers the world over (oh, and before you dispute her cup-size – considering that her breasts appear so much smaller than the P-cups of, say, Monique – I should mention that the site cites her stats as a "metric" P-cup).
Although the Okinawa-born big boobs wonder originally appeared under the name of Love at Tokyo Topless in 2005, her photos were later cropped or removed due to issues with her age. Fuko has since rekindled her career as a bikini gravure idol, promoting herself through her very own blog upon which she occasionally posts bikini pics (and my certainty that I'd indeed found the right girl at Busty-Asians was further reinforced by the fact that the bikini featured in this particular pic from their gallery matched one of the bikinis she's wearing in her blog!).
And so, relatively secure in the knowledge that my efforts at finding Fuko had been fruitful, here are a few more photos of this busty Asian goddess in her bikini from Busty-Asians…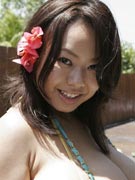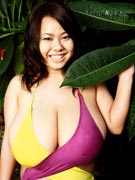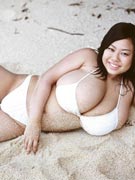 …but, lovely though those pictures may be, you wanted to see Fuko topless, didn't you? Right, then! Submitted for your personal viewing pleasure, here's Fuko baring by far the biggest breasts I've ever seen on an Asian girl, again courtesy of Busty-Asians:
[Okay, guys, I have some good news and some bad news: The bad news is that I've received an e-mail expressing reasonable reservations over the topless Fuko pics I was going to feature here. :~( The good news is that the site in question offers the same photos in FHG format, so simply click here to see the pics I'd originally intended to post! ;~)]
CLICK HER TO VISIT JAPANESE P-CUP FUKO aka LOVE AT BUSTY-ASIANS

(18 U.S.C. 2257 Statement)