Ever since I first became fascinated with breasts, I've struggled to grasp the arcane mystery of bra sizing. It's always seemed so confusing: You measure the band size across the chest beneath the breasts, then measure the bust line at the fullest part of the breasts, add 5 inches to the first measure to determine the band size and, if it comes out odd, add another inch, then subtract the first measure from the second and consult a table to find out the cup size. It's all a bit haphazard, if you ask me. What's worse, they recommend you wear a bra whilst taking the measurements! If the bra is too small, wouldn't the results be inaccurate?!
I only mention this because my wife, Vix, went brassiere shopping the other day, as those in her current wardrobe were getting too tight. Curiously, over the past few years, her breasts have steadily increased in size. Three years ago, she could comfortably wear a 36DD. Nowadays, it takes a 36F to contain her! What's up with that?! Mind you, I'm not complaining!!

| | | |
| --- | --- | --- |
| | | |
| Vix at 36DD | Vix at 36E | Vix at 36F |
This time, rather than attempting to go through the thoroughly unscientific method of measuring her bra size manually, we used a marvellous new invention I'd found on-line: "The Bra Sizing Tape Measure"! It looks just like a regular measuring tape – thus belying its true cleverness – but double-sided with color-coded graduations. You simply measure beneath the breasts to determine the appropriate color-code, then flip it over and measure across the breasts and read the bra size that corresponds with that color. Viola – 36F!
And it's uses don't stop there. I've found this pocketable little device to be a great ice-breaker at parties as well! We were getting ready for one the other weekend and, knowing that there would be several rather well-endowed females in attendance, I made sure to take the tape measure. I was amazed at the number of women who allowed me to "size" them – in fact, a few even sought me out once they'd heard what I was doing! However, I did encounter one lovely lady who went well beyond the 44G limit of the tape (we tried several times, of course, just to be sure)! Ah, if only I'd taken photos…
CLICK HERE TO VISIT VIX' CHARITY WEBSITE…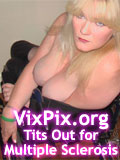 …OR CLICK HERE TO SEE LOTS MORE OF VIX AT TITS-OUT.COM: