Although the wife & I both share the same affinity for large breasts, I tend to prefer a more voluptuous body to balance out the bust size (in fact, Vix often refers to me as a "chubby chaser" because of this). Call me unconvential, but I just think it looks far more natural than the usual "tits on a stick".
I say "unconventional" because it's so rare to find examples of "my type" of big-boobed, well-proportioned women in popular culture. Large breasted women are typically exploited in the media for their titillation factor – yes, pun intended – and, more often than not, these are nothing more than skinny, top-heavy glamour models. It's sad, really, because this implies a public perception that naturally curvy women are undesirable. What's worse, this attitude does nothing for the self esteem of those "real women" who have a bit of flesh on their bones!
Unfortunately, this media-centric attitude seems to permeate life: Walking down the street on a nice Summer's day, Vix & I frequently engage in the practice of "boob spotting" (I highly recommend wearing sunglasses for this sport). It's easy to find the "sticks with tits" flaunting what they've got about town in revealing clothing, but most of the generously-endowed larger ladies cover themselves up. Where's the fun in that?! Again, I blame the media for giving these women the impression that no one wants to see them.
That said, I'm please to find "normal sized" women getting a bit more well-deserved attention on the 'net nowadays! Heather Michaels is a fine example of what I'm talking about…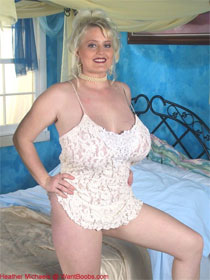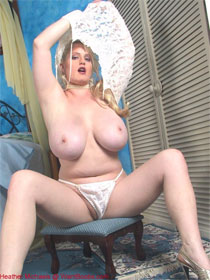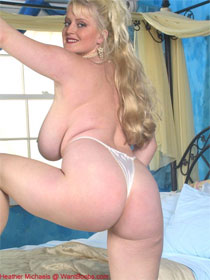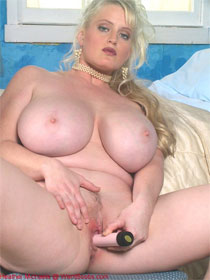 …this buxom British blonde has been blessed with natural G-cup boobs and a body to match! With measurements of 44G-33-39, Heather epitomizes my ideal of a big-breasted, yet natural, woman.
CLICK HERE TO VISIT HEATHER'S WEBSITE