It's great to see G-cup glamour queen Jana Defi back at Busty.pl (one of the first sites upon which I'd originally encountered her). Granted, she's been doing some exceptional work lately with the Pin-Up folks – not the least of which was establishing proof positive that her 32G breasts were 100% natural – but, personally, I'd always felt that her Polish Busty work as alter ego Maria Swan made her look more "organic" (i.e. less of a supermodel and more like a real woman).
That said, there does remain an inescapable elegance about Jana. Take her most recent appearance as Maria Swan at Busty.pl for example, wherein we're drawn into the fantasy of encountering this stunning specimen of well-endowed womanhood within a darkened lift (that'd be an elevator for all my fellow Americans). Poor Jana simply can't help dripping with glamour, not to mention the sweet scent of sex oozing from her every pore. Oh, the trials and tribulations of supermodeldom.
Whatever happened to that gorgeous G-cup girl-next-door that Jana Defi used to be; the relentless tease who'd pull her top down just enough to reveal her copious cleavage and just a hint of areola (honestly, if only she'd had braces on her teeth in that last shot, she'd remind me of an old ex-girlfriend, albeit with bigger breasts), and only taking her shirt off completely to show off her stunning topless form when she was facing away from us (although I do love those "big breasts from behind" shots); the busty young angel whose radiant smile as she cast a backwards glance my way before departing would inspire me to write long run-on sentences peppered with photo links and parenthetical expressions?
Alas, she appears to be gone forever, replaced by a "new & improved" version which switches to seductive smouldering temptress mode whenever there's a camera within eyeshot. All things must pass, I suppose, and I certainly can't fault Jana for adopting such a super sexy persona for her modelling work. Like the fleeting recollections from my adolescent years, I can still hold on to the fond memories of my pre-glamorous G-cup goddess by virtue of her archived photos & videos at Busty.pl. *sigh*
Here's Jana Defi – oops, make that Maria Swan – in her latest from Busty.pl: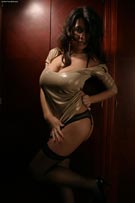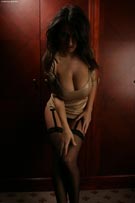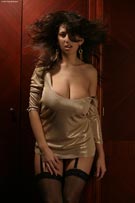 CLICK HERE TO VISIT JANA DEFI aka MARIA SWAN AT BUSTY.PL