I was chatting with my mate Gustav the other day about our G-cup glamour queen Jana Defi (aka Princessa / Maria Swan). He'd sent me over a selection of photos and was wondering which website(s) they had from. It turned out that most of them were from Jana's glamour modelling shoots (similar to these) and weren't really from a particular site.
This got us on the subject of other more obscure sites Jana was appearing on, apart from the her usual work with MC-Nudes, PinUpFiles & Busty.pl. I couldn't think of any others off-hand, so decided to embark upon a search, as I do like to keep on top of MyBoobSite's models (although, when we're talking Jana, I'd much rather have her on top!). ;~)
I finally found her on a site called JelenaJensen.com, a previously unknown outpost featuring all manner of busty beauties. At first I was thrilled to see Jana posing there with her twin sister (!), but my hopes were quickly dashed as I made my way through the photo series only to discover that it was a mirror. :~( Oh well, so much for the fantasy of a Jana sandwich.
Still, it is nice to see more of this gorgeous 32G girl splashed across the 'net. Jana even lets loose and gets a bit silly in this shoot, which was a refreshing change from her habitual (albeit profoundly sexy) pouty professionalism. Here are a few sample shots of Jana and her equally-striking mirror-image from JelenaJensen.com: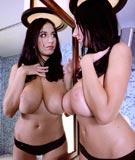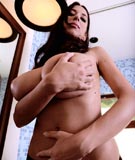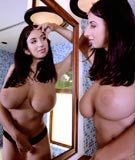 CLICK HERE TO VISIT PRINCESSA / MARIA SWAN / JANA DEFI AT JELENAJENSEN.COM