I had a rather trying day yesterday. My wife, Vix, had been going through her personal archive of unpublished porn videos and found the following forgotten fuck flick. Actually, it wasn't so much forgotten, as we'd just left the camera running on a tripod after a particularly horny video shoot wherein Vix was rubbing after-sun cream all over her F-cup tits. This got her turned on to no end, and it wasn't long before she was masturbating with the lotion bottle, using it as a massive makeshift dildo. She'd cum several times during the course of the shoot; but, alas, this wasn't enough for her – she wanted sex – and my already throbbing cock was all-too-happy to oblige.
I mounted our video camera on its trusty tripod and joined Vix in the bed, upon which she instantly mounted me, commencing with a glorious blowjob / titfuck combo. She's rather dominant when it comes to sex, her favourite phrase being "get on your back, shut up and keep still". A lot of our fuck friends find this a bit intimidating (especially when it comes to pussy jacking), but I don't mind in the least: I'm a girl-on-top sort of guy as it is, relishing the weight of a voluptuous woman pressing down upon me, rubbing her wet slit over the length of my cock whilst her breasts dangle with their erect nipples precariously close to my mouth in readiness for a good suck. Also, it means that I don't have to do much of the work (lazy bastard that I am)! ;~)
But that was many months ago. My troubles yesterday stemmed from that fact that I had to edit this long-lost video, creating the gallery vidcaps and this 40 second preview clip in preparation for posting it on her Tits-Out website. Unfortunately, this process required watching it over and over again, in great detail. Needless to say, this gave me a raging hard-on and I literally creamed my jeans several times. I stoically resisted the urge to have a proper wank, as there was much work to be done. Besides, it seems somehow wrong to masturbate over your own wife's porn.
Perseverance paid off, though, and I'm proud to present the first ever full-on fucking video that Vix has published on Tits-Out.com: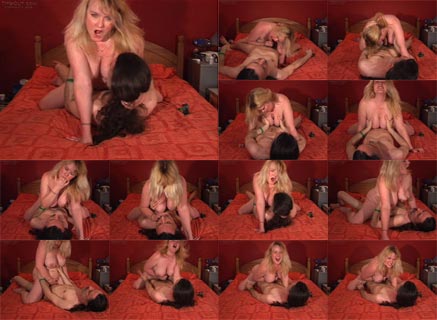 CLICK HERE TO VISIT VIX' WEBSITE