A lot has happened since I last blogged the mysterious Maxi and her massive JJ-cup boobs: She's recently launched her own personal website – Maxi32jj.com – and has begun shooting all-new photos & videos for it. The biggest news of all, however, and the reason she'd ventured off to start her own site, is that…MAXI'S PREGNANT!!
In her own words: "As you might know, I was modeling for TopHeavy from 2001 till the end of 2005. I had a great time there and probably would stay forever, but a major thing happened in my life – I got pregnant! :D The new situation forced me to open this personal website of mine, which will be focused on pregnancy and fast growing of my already huge breasts during the next several months. You'll also see me playing naughty milking games, when the time comes. And my big belly lovers will enjoy now more then ever, since I started eating a lot, hehehe."
Her new site is "udderly" fantastic, too! In addition to being able to watch the progress of her pregnancy and see its effects upon Maxi's luscious voluptuous body, she's also posted a generous selection of never before seen private shots from her early days, even before she'd begun modelling in 2001 (a must-see for any true Maxi fan!). And there's plenty of photos & videos from after she became an internet big boobs sensation as well. All in all, it's the ultimate Maxi collection!
The thing I'm most excited about, though, is seeing the impact that Maxi's pregnancy will have on her already-enormous 32JJ tits. As the hormonal changes of the reproductive process begin to take effect, the breasts typically grow by several cup sizes (anyone care to wager where her JJ-cups will be in 9 months' time?!). Then, there's the delicious prospect of lactation as her body prepares for breast-feeding…and, for me, the mere thought of a "milking Maxi" just boggles the mind!
But, as the saying goes, all good things come to those who wait. She's just starting to "show" now – as evidenced in the photos below (her belly's already grown from 33 to 36 inches) – and she's recently reported that her boobs are beginning to follow suit! I, for one, am really looking forward to joining Maxi on her journey to motherhood…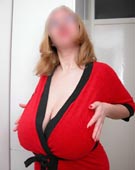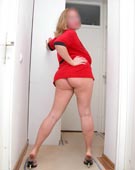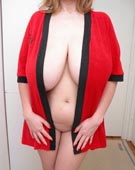 (note: photos available for download on the site are typically 1600×1200 resolution)
…and, in her current medically-sensitive condition, what better persona to portray in her most recent video than that of the illustrious "Dr. Maxi" (in magnificent 1280×720 resolution, no less)? Mmmmm…I don't know about you, but I'd let the lovely Maxi "play doctor" with me any day:






CLICK HERE TO VISIT MAXI'S NEW WEBSITE