They say there's no such thing as a bad blowjob (upon which I beg to differ, 'tho that's another story altogether), but can you get a bad titfuck? Now, I'm not just talking an ineffectual titfuck here (i.e. one where you don't cum), as such fine phallic foreplay never fails to give me great penis pleasure feeling my cock caressed in cleavage regardless of its orgasmic consequences. No, I'm talking titfucks that just leave your phallus feeling sexually frustrated.
But, first, I'd like to answer a question posed by sayno2sillycone yesterday when he asked, "Who was that special photographer in Jana's video clip?"…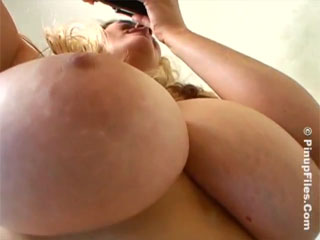 …well, Mr Silly Cone Opponent (a point upon which I must also differ, since all my best titfucks have cum from a pair of faux F-cups), Jana's mystery tit photography friend was gorgeous 36F Maggie Green, which gives us a nice segue since she's one third of our disappointing titfuck threesome today!
But how could I or any other large breast lover be disappointed in getting a titfuck? Well, since you asked, I got this gallery from the Maximum Maggie site that came entitled Titty Fuck w/ Brandy Talore with a titfuck tag line to wit, "Maggie Green and Brandy Talore take turns titty fucking a hard cock."
"Cool," I thought. Splendid, even, since I feel F-cup breasts are the perfect size for tit-fucking and, besides, we've not had DDD-cup Brandy Talore on my boob site in a while, so I clicked to see what titfuck photos lay therein…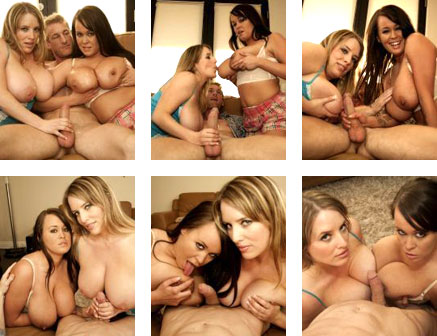 …notice anything conspicuously missing from this mammary masturbation series? Yes, that's right, there's no actual tit-fucking taking place! Sure, we get plenty of penis on breast play with nipples touching todger and such, but where's the beef bayonet in boobage? The noodle nested in norks? The cock in cleavage combo? It's just not there. Meh, maybe it is just a preview – a prelude to a titfuck, if you will – and our busty girls go all the way in the full photo series. Who can say? All I can say is, if two girls promised me a threesome titfuck and then took turns just holding my penis, pretending to lick my dick when actually going down to suck her own nipples instead, I'd be sadly disappointed. Thus, the answer to our question of whether or not you can get a bad titfuck is "yes", when you end up getting no titfuck at all. It's all well and good to get a girl rubbing her erect nipples on the sensitive underside of your swollen shaft but, without full cleavage coitus – your big boner buried in boobs head to balls – it's just not proper breast sex to me.
Granted, I've had issues with Maggie Green before (and is it any coincidence that was over yet another threesome double-act?), but I still find this busty beauty and her ideal size 36F breasts "udderly" irresistible, so I'd best give her an opportunity to prove she's not just some sort of big tit fuck tease via video replete with some real big tit fucking fun from MaximumMaggie.com:
Loading the player…
(right click here to download video)
CLICK HERE TO VISIT MAGGIE GREEN & BRANDY TALORE AT MAXIMUMMAGGIE.COM

Share and Enjoy
→ Return to MyBoobSite for More Big Tits ←