The Sunday Telegraph reported this past weekend that a whopping 40% of Australian women wear a bra-size of DD-cup or larger! One Australian bra manufacturer recently noted that it's current top-selling bra-size is a 10G (equivalent to a 32G here in the UK), citing that they've been fitting a lot more small-figured girls with big breasts than ever before. While some are quick to place the blame upon obesity as the culprit in these increasing cup sizes, a Sydney cardiologist said that this booming bout of bigger boobs could well be caused by the artificial oestrogens found in foods, plastics, cosmetics and higher doses of the hormone in contraceptive pills which have been proven to encourage the development of breast tissue as a side-effect.
In light of this exciting news on the big boobs busty front, I thought I'd take a moment today on MyBoobSite to celebrate this generous growth spurt in Australian breasts – and who better to represent the growing breasts of Australia than gorgeous G-cup Aussie Angela White? A stunningly beautiful well-endowed woman, Angie had the honour of being elected by Score as their Voluptuous model of the year in 2007. And so let us now join 36G Angela white nude in the bathtub, getting her tits all soapy & shiny in photos & videos that come courtesy of DDFbusty.com…
36G Angela White photos at DDFBusty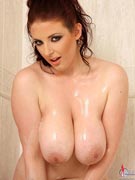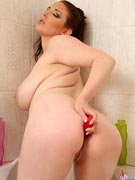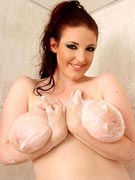 36G Angela White videos DDFBusty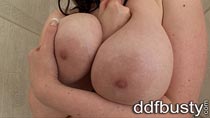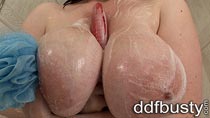 …in other news, it seems that DDF Busty simply cannot resist the urge to fuck with their big breast models' names! I find this practice immensely annoying as, should you find a busty model that you particularly like on the site taking lovely redhead Lucy Williams as a prime example whom they've rebranded as Amber – arguably because of her ginger hair – you'll come up with nought upon Googling her for appearances on other big boobs porn sites.
This may, however, merely be a clever strategy on their part to keep porn surfers from venturing elsewhere to see her! If this in indeed the case, then that's just cheating (imho) as these girls deserve maximum exposure for all the wonderful work they're done. It could prove to be counterproductive as well considering that, say, you might've first found Lucy Williams at BustyBrits. In this instance, a search for her model name would yield her appearances on every big boob site but DDFbusty!
Meh, big tits porn sites should standardise their busty models' names. It would just make life so much easier for us as big breast lovers and quite possibly prove more lucrative for them in the long run as dedicated boob fans start seeking out the busty girls they like the most! But enough rambling on about petty porn annoyances and on to perving over the photos & videos of voluptuous Amber nee Lucy Williams at DDFbusty.com…
Lucy Williams aka Amber photos at DDFBusty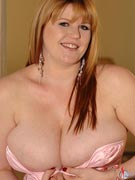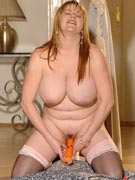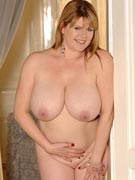 Lucy Williams aka Amber videos at DDFBusty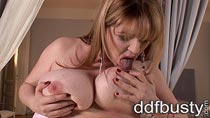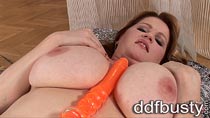 …whilst over at DDF Busty collecting content for today's boob blog, I also happened upon some new photos & videos of the perfectly pendulous Terry Nova and her girlfriend Pam engaging in a bit of big breast bondage with Pam's tits in a harness and Terry wielding the whip – well, actually, it's more of a riding crop – and, considering I don't have nearly enough in the way of boob-oriented light bondage here on the blog, I thought I'd include this as a supplemental sidetrack into the BDSM world. Thus, here's Terry Nova & Pam breaking out the whips & chains and getting it on with some light lesbian bondage in photos & videos from DDFbusty.com…
Terry Nova & Pam big breast bondage photos at DDFBusty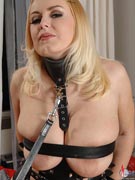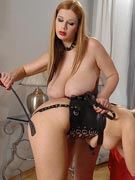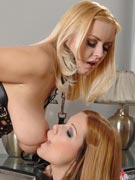 Terry Nova & Pam big breast bondage videos at DDFBusty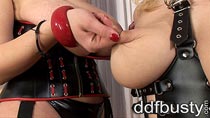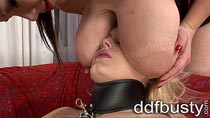 …last but not least, I wanted to close today's boob blog with Jannete (yet another annoying case of model renaming since she goes by Wendy Star or Westy at other busty porn sites, the latter identity of which I'd previously blogged here & here) for no other reason than just being so fucking cute (and I do suppose that being blonde and having big tits factor into the attraction equation as well). So I now shall bid you adieu with photos & videos of the incomparable cute Jannete at DDFbusty.com:
Wendy Star aka Westy aka Jannete photos at DDFBusty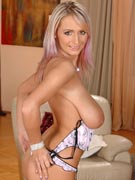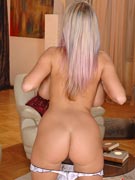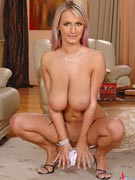 Wendy Star aka Westy aka Jannete videos at DDFBusty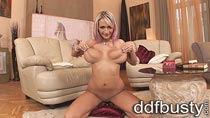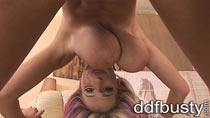 CLICK HERE TO VISIT DDFBUSTY.COM

(webmasters)
Share and Enjoy
→ Return to MyBoobSite for More Big Tits ←