I feel so bad. Despite it being eight months since I last blogged Busty Brits, I nonetheless received a glowing e-mail yesterday from their webmaster praising my performance in driving visitors to the site in 2007. What makes this even sadder is that, upon examining my blog log, I discovered that I'd only featured them twice for the entire year! Thus, pursuant to the praise received, I figured the best way to ease my troubled conscience would be to bring BustyBrits back to MyBoobSite.
As you may or may not be aware, it was 38GG Imogen who brought me to the site in the first place. I was an ardent fan and simply couldn't get enough of this beautiful busty British blonde! Then a dark day arrived on the 5th of May, 2006, when an e-mail from Imogen's girlfriend Alexis informed me that my objet d'amour was no longer modelling! :~(( Thus, my fascination with the site passed by the wayside.
But my past blogs of still continued to garner interest. By far, and regardless of my obsession with Imogen, the most requested model from the site (judging by your voluminous e-mails & comments) has been the ginger girl whom I'd originally blogged as "The Boobs Fairy". With her milky fair skin, semi-voluptuous body and gorgeous GG-cup breasts, Fairy is indeed a fine example of what our busty British girls are like over here! ;~)
And so, for my inaugural post of what I hope to be many for this fine site in 2008, I've decided to feature 36GG redhead Fairy from BustyBrits.com…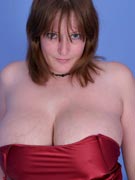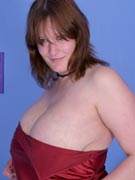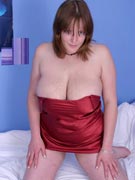 CLICK HERE TO VISIT 36GG FAIRY AT BUSTYBRITS.COM
…however, upon visiting the site for the first time in many moons, I found yet another lovely redhead who instantly caught my eye: 34FF Lucy Williams which, frighteningly, considering all of the well-endowed women to choose from there, would further appear to indicate that I'm rapidly developing a thing for redheads when I've always, in the past, preferred blondes! Then again, Lucy also has a blonde younger sister so perhaps they'll pose together some day so that we can do blondes vs redheads poll!
But no matter, regardless of the hair colour, I was just so totally taken in by Lucy's sultry looks and sexy smile as she progressively peeled away the PVC encasing her fabulous FF-cup breasts to reveal those pretty pink nipples that I couldn't resist including this lovely English rose in today's blog as well! Thus, it's two for the price of one on redheads today at MyBoobSite courtesy of stunning new arrival 34FF Lucy Williams from BustyBrits.com: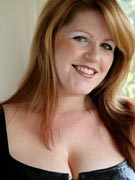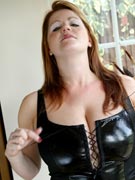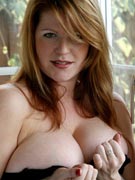 CLICK HERE TO VISIT 34FF LUCY WILLIAMS AT BUSTYBRITS.COM

Share and Enjoy
→ Return to MyBoobSite for More Big Tits ←