I've been a sucker for big tits in a bath robe since my breast fetish began. In fact, I can trace this particular perversion to when I was in my horny teens having discovered in my pre-internet search for porn some sleazy polaroids that my older brother had shot of his busty girlfriend in the amateur reader's wives style, the one where she was reclined in bed with her big boobs spilling out of her robe having been a particular favourite when I needed a massive mammary-laden mental image to, um, "help me along". ;~)
Curiously, when I at long last let my breast obsession bear fruit in the form of experimenting with my own erotic amateur tit photography decades later, it was quite probably no coincidence that this remarkably similar big boobs in a bath robe pic was amongst the first topless photos I'd ever taken, almost as if my hormone-fuelled adolescent sex-crazed subconscious was coming back to haunt me (come to think of it, even the bulbous boobs on my mobile phone wallpaper follow in this same topless busty bathrobe vein!).
Ah, but that was before I discovered truly massive tits like the L-cup breasts of super busty Rachel Aldana. If only I could see those "udderly" magnificent monster boobs bulging out of a bathrobe, I reasoned, my exposed breasts in a bath robe fantasy would achieve its colossal cleavage climax. Such were my high hopes for huge hooters when I first heard about her Mojito Robe series of photos and videos. But when I finally got to see the results in the flesh (as it were), I found it didn't quite live up to my huge tits fantasy.
Don't get me wrong, I find Rachel Aldana to be a stunningly beautiful girl and extremely well-endowed wonder of nature with some of the biggest breasts I've seen of such lithe and slender frame – so much so that slim and stacked doesn't even begin to do justice to the sheer proportional contrast between her gigantic juggs and small body – but the busty bathrobe photos were just (how shall I say this?) too polished, too professional. As much as I adore her fabulous figure, I just wish she looked more… approachable.
That, or maybe I just need to see Rachel Aldana on her back again with those remarkably huge, heavy tits spilling out all over her chest just like she was in her early videos rather than the glamorous busty goddess they've turned her into as of late. After all, Rachel's an uncommonly gorgeous girl with amazing boobs, so why not show her large, natural breasts as nature intended? I think if her photographer would merely do a few busty girl-next-door style shoots, Ms Aldana would find herself courting a whole new fan base!
But I'm preaching to the converted here, as the many big breast lovers' comments I've received on the topic of the highly-produced pornographic presentation of Rachel's massive mammaries mirror my own. And so, I'll dispense with my personal opinions on the titular big tits fantasy and instead just get on with the photos and videos. Thus, here's the ever lovely 32L mega-mammary model Rachel Aldana in her Mojito Robe photo and video galleries coming boob loving courtesy of RachelAldana.com:
32L Rachel Aldana Mojito Robe Photo Galleries from RachelAldana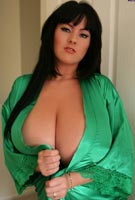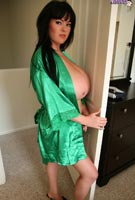 32L Rachel Aldana Mojito Robe Video Galleries from RachelAldana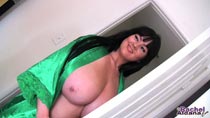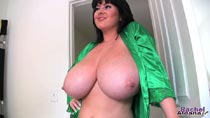 CLICK HERE TO VISIT 32L RACHEL ALDANA AT RACHELALDANA.COM

Share and Enjoy
→ Return to MyBoobSite for More Big Tits ←