When I blogged Rachel Aldana topless for the first time just a week ago today, I knew that she and her massive JJ-cup breasts standing in stark contrast to that slim-n-stacked body would be an instant hit. The comments and e-mails came pouring in with praise for this unusually busty young girl who finally got her tits out two years after the good folk at Guinness Book of World Records had briefly credited 32JJ Rachel as having the biggest natural breasts in Britain. Most of your comments embodied exhortations to show more of this slender, huge-breasted, well-endowed wonder of nature here on MyBoobSite. Not being one to withhold such a female filled with busty goodness from my dear readers, here's a behind the scenes shot from Ms. Aldana's latest photo session at PinUpGlam…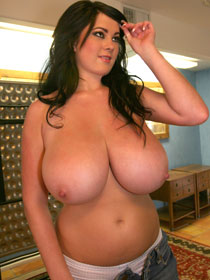 …however, there were a number of comments casting doubt upon the veracity of Rachel's dimensions, claiming that the size and contour of her huge breasts had been digitally enhanced. Having seen previous photos from Rachel's time in the limelight two years ago, I knew this not to be the case. However, there's just no telling some people, is there? They pass a busty girl in the street, and they automatically assume she's had a boob-job. They see a photo of a beautiful huge tits model, and they instantaneously jump to the conclusion that there's some diabolical breast expansion alchemy at play.
Granted, I'll agree that some of the photos over at PinUpFiles do have the appearance of having been touched up a bit, but that's really the whole point of their retro pin-up style, isn't it? It hearkening back to the days when you could just amble down to your local garage and see a profusion of posters featuring big-breasted babes covering the walls (before political correctness stepped in an branded the practice as sexist). However, they DO NOT enlarge the breasts in their pursuit of this retro-pinup poster-perfect look of days gone by. It's strictly cosmetic in a manner of a woman applying make-up, albeit digitally (and, yes, even full-body make-up was the defacto standard in the olden days of porn).
Sometimes, it's not even a deliberate PhotoShop job that's the culprit of such image enhancement. For example, my own digital camera automatically engages a convolution filter to even out the subject's skin tones and smooth the background when I'm shooting in portrait mode in order to increase visual emphasis upon the model. Thus, even though my own pics are not PhotoShopped in the least, they can still have that tell-tale appearance of processed pixels due to the automated digital image processing built-in to the camera.
But why am I banging on about this anyway? Why can't people just be content to behold the wonder of big breasts without casting unfounded and ill-informed aspersions toward these thoughtful, lovely women who are kind enough to show us their tits?! It's the overtly confrontational attitude that bugs me the most – being faced with a thing of great beauty and having to find something, anything, wrong with it. I can only surmise that there's jealousy afoot when I encounter this behaviour, an arguably useless emotion if there ever was one, simply acting as a mirror reflecting the individual's own discontent. How can one look at huge breasts and not simply be overcome with a feeling of warm, nurturing contentment? C'mon guys – boobs are fun! Like tequila, tits make you happy! And ogling breasts can even increase your lifespan (but that's another story altogether).
It's sad what some models like Jana Defi have to go through in order to prove to such dissenters that her tits are real. It's always the slim & stacked ones, too, isn't it? I guess these people simply refuse to believe that a slender girls can be blessed with such profoundly magnificent mammaries amongst their God-given assets. Me? I don't question a thing. In the depths of my breast-obsession, I need merely look at pair of big tits to appreciate their unique aesthetics – no questions asked – and feel the world would be a better place, and models more readily encouraged to reveal the treasure of their chests, if we all did the same. I promise I'll stop ranting…now.
Speaking of breast aesthetics, 32JJ Rachel Aldana does indeed have some unique characteristics of her own in the tits department. The 20-year-old hairdresser from Northants has breasts which appear remarkably firm for their enormous size, no doubt a by-product of her youth. However, for having such huge boobs, Rachel has endearingly small areolas topped by perpetually pert nipples which stand as attention as if to express their excitement in at long last being uncovered for all the world to see. The sheer mammary mass of her JJ-cup juggs is such that cleavage is unavoidable, lest she lie on her back and allow gravity to take hold of those huge mounds of breast-meat and drag them dangling deliciously to her sides. Oh, to rest one's head between breasts like that would be heaven on Earth. And to then reach one hand around to either side and compress her copious cleavage around my face only to be entirely enveloped and smothered in breast-flesh would make me die a happy man. *sigh*
There. See? It is possible to find true wonder in tits without resorting to negativity! Then again, I've had the benefit of seeing Rachel's new HD video over at PinUpGlam. ;~) It's the first in a series of videos that will chronicle a day in the life of Rachel Aldana. This first one starts off with Rachel in bed (which is where she'd stay all day if I had my way) and features leisurely, lingering shots of the stunning Rachel and her JJ-cup breasts close-up and afar. Also, I'm hoping that these videos will help put to bed (as it were) the idea that Rachel has to rely upon any form of enhancement to complement her 100% natural beauty! And so, I bid you adieu for the weekend with these splendid video clips of 32JJ Rachel Aldana (with the hope that these clips can do her justice, as the actual video on the site is a breast-defying 852×480 resolution) in her mammary movie debut at PinUpGlam.com: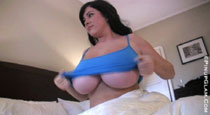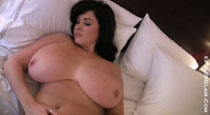 (note: actual video downloadable from the site is 852×480 high-resolution)
CLICK HERE TO VISIT 32JJ RACHEL ALDANA AT PINUPGLAM.COM

(note: PinUpGlam has since been merged into PinUpFiles)
Share and Enjoy
→ Return to MyBoobSite for More Big Tits ←