Well, it seems 32K Rachel Aldana's record for Biggest Breasts in Britain has been broken. I learned this from some mysterious MyBoobSite reader who anonymously posted the following photo and story link in my forum blog…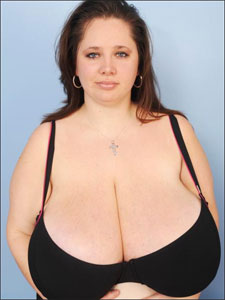 (image courtesy of: News of the World)
…the busty usurper of the biggest tits title is a 26-year-old housewife named Donna whose massive M-cup breasts have caused her nothing but trouble. Donna's problems began in her late teens when she was a mere size 10 with 32HH boobs enduring cruel teenage taunts about the size of her tits. She'd applied for a breast reduction op on the NHS at the time, but was turned down because she was too young. Her boobs ballooned to a bra busting 40M a mere two years later and, unable to afford the £500 ($800US) for a custom made M-cup bra, she resorted to the discomfort of wearing bras too small for her overly ample endowments. Even Donna's partner finds her huge tits a turn-off because "they get in the way during sex" (obviously not a big breast lover as, for me, they'd be the centre of attention!).
In 2006, Donna was refused a breast reduction one again due to weight gain and must now lose 7st (98lbs) before the surgery would even be considered, and the fact that her breasts weigh 1st (14lbs) each in and of themselves certainly doesn't help matters any. "I feel caught in a vicious cycle," Donna was quoted as saying, "My boobs are ruining my life. It's certainly not fun having the biggest breasts in Britain." And, although I find Donna to be a most stunning woman with breathtakingly beautiful breasts and feel it would be a shame to lose them, I can only empathise and be supportive of whatever decisions she makes in their regard. After all, it's her body and, despite what big breast obsessed individuals like ourselves might think to the contrary, her future health and comfort far outweigh Donna's incomparably lovely 28lbs of breast flesh.
Record breaking big boobs aside, that fact that displaced former British biggest tits title holder 32K Rachel Aldana is a full two cup-sizes smaller is relatively inconsequential since, unlike M-cup Donna, we get to see Rachel's comely K-cups topless! And, since I've received more promotional photos & videos from her new RachelAldana site compared to the meagre massive mammary selections I'd been able to offer in the past, I thought I'd bring her back to MyBoobSite. However, since I'd received complaints about Rachel's rather extreme high resolution photos being too big (unlike her breasts), I've decided to scale these tit pics down a bit.
Personally, I like the hi-res pics, as they give us the opportunity to zoom in and get up close & personal with Rachel's massive tits, showing detail down to the fine creases in the cleft of her cleavage and the two light hairs adorning one of her little nipples (erm, they're just underneath Rachel's right nipple, should you happen to be looking), although I must admit I'm still struggling to read that tattoo on her tummy. Eh, I suppose that if I get enough requests, perhaps I'll post the full-res versions of these fine photos in MyBoobSite's dedicated Rachel Aldana forum. Until then, a few reduced resolution sample pics from Rachel's "Mint Green Blouse" series at RachelAldana.com…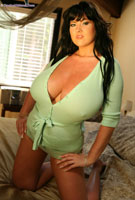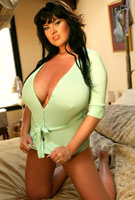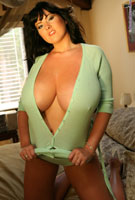 (note: actual photos available for download average 2000×3000 resolution)
…oh, and whilst I'm here, I've been sent some previews clips of the video accompanying this series. So, once again here's 32K Rachel Aldana in videos from RachelAldana.com: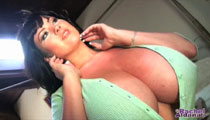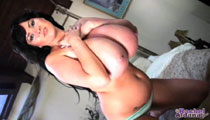 CLICK HERE TO VISIT 32K RACHEL ALDANA AT RACHELALDANA.COM

Share and Enjoy
→ Return to MyBoobSite for More Big Tits ←