I'd received an e-mail over the weekend from a visitor to MyBoobSite who'd heard a joke on Saturday Night Live about a girl named Rachel Aldana who, at a 32JJ, supposedly had the largest breasts in Britain! Having failed to locate any further information on-line, he thought that perhaps I might be able to track her down, citing me as an expert on the subject of boobology who just happens to live in the UK.
Well, Johnny, you're in luck! I found the original article, entitled "Guinness Boob of Records", in British newspaper The People. It described Rachel's massive mammaries as making tabloid celebrity Jordan's 34FF pair look like poached eggs. The 18-year-old hairdresser from Brackley, Northants, reckons that big breasts run in her family. Her mum was a 36E before being surgically reduced to a C-cup (shame about that), but Rachel has no plans to do anything quite that drastic as yet (good girl!). Her story caught the attention of the Guinness Book of World Records who, believing that Ms. Aldana has the largest natural breasts in all of Britain, offered to immortalize Rachel in their next publication.
But they were wrong. In the week following her story, editors from The People received letters from three women seeking to usurp Rachel's top titanic tits title. Two of them – Natasha Weston-Mayes & Leanne Darnley, both 19 – boasted 34JJ bust-lines, while 16-year-old Chloe Rogers blew away the competition with her king-sized 34KK knockers! "I couldn't believe (Rachel Aldana's) claims," remarked Chloe, "my boobs are obviously MUCH bigger." I just love a woman with confidence!
Chloe, Leanne & Natasha all come from families with a history of large bosoms, the latter remarking that hers "obviously has big boobs stretching back generations." [Wow. The thought of breasts defying the linearity of the space-time continuum. Truly, it boggles the mind. ;~)] Considering the implications, 34JJ Leanne said, "The fact that all three of us have big boobs running in our families seems to suggest that there could be some kind of genetic link. I think a geneticist should look into it. If eye-colour is hereditary, why not boobs? Imagine the possibilities if they discovered a boob gene. You might be able to clone breasts!" Hmmm. Obviously, Leanne hasn't read this article.
Click here to read the entirety of The People's followup story, "Record BreaKKers", or click the following thumbnails for photos (apologies for the quality, but, failing to find any on-line, these were scanned from the original newspaper article):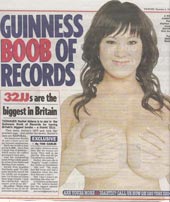 (images courtesy of The People)
P.S. Thanks go out to Johnny H. for alerting me to the original story, and to kernowgypsy & keef1 for the scans! :~) Oh, and here's Leanne, too!
P.P.S. to those who don't already know: The lovely Rachel Aldana has since chosen to grace us with even more of her beautiful breasts by pursuing a career in topless modelling! And, not only that, but this lovely young lady has grown to a K-cup as well!! It's wonderful to see her both embracing and taking advantage of her exceptional assets, and I can only wish her all the best for her future.
CLICK HERE TO VISIT RACHEL ALDANA AT RACHELALDANA.COM

Share and Enjoy
→ Return to MyBoobSite for More Big Tits ←