When I'd posted the link to topless photos of Fuko a while back, I had no idea that this particular post would soon become the #1 search destination page for MyBoobSite. Seems that she and her Japanese P-cups are far bigger stars in the world of big boobs that I'd initially given them credit for and that the demand for Oriental big tits was a force with which to be reckoned (see? I should listen to you guys more often!).
Perhaps it's the novelty of it all, as big breasts on Asian girls is a rare combination indeed. This was summed up nicely in am observation from an anonymous poster (apparently so unnamed because his girlfriend would be angry) on my Fuko blog when he said, "Seeing a naturally big busted Asian is like seeing a nun action figure. Every time you see it you're left wondering if it was all just a dream, even years later."
Now, I sincerely hope that this does not get me branded as a sexual racist, but I'd never really found Asian girls to be particularly attractive. Black, Caucasian, Middle Eastern – in fact, I'll go as far East as India – and I'd be able to perceive the inherent beauty resulting in the tell-tale twitch in my loins, but not so with Orientals. I've discussed this at worrisome length with the wife, looking for something in my childhood which might have resulted in said physical prejudice, but we were unable to draw any conclusions. The only things I could come up with in my defence were that 1) in my experience, Asian women were largely small in frame, and I do like a bit of extra flesh on the bones (i.e. girls "built for comfort, not for speed" and all that), and, 2) perhaps as a consequence of the first point, big breasts seemed to be the exception rather than the rule.
However, I'm pleased to report that my long-held attitude towards Asian girls has been changing as of late. With the discovery of Fuko and even some lesser-endowed yet stunning Japanese lovelies like Takizawa Nonami & Yoko Matsugane, I'm finally finding beauty in the Far East. Thus, I've decided to revisit Busty-Asians in an effort to feed my growing appreciation of their aesthetics. In fact, the first model I've featured below is damn close to my aesthetic ideal with just enough hint of surplus flesh to make her irresistibly cuddly and tits to die for! Here she is along with a small selection of other busty Asian models from Busty-Asians: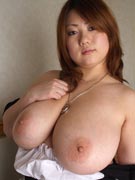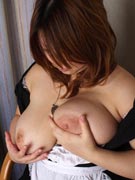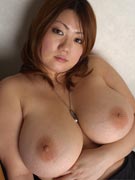 CLICK HER TO VISIT BUSTY-ASIANS

(18 U.S.C. 2257 Statement)
Share and Enjoy
→ Return to MyBoobSite for More Big Tits ←