Remember when I was talking about Laura Williams, the lovely Welsh Big Brother housemate with 40HH boobs and saying I should probably start watching the show? Well, I did and came away more annoyed than entertained. And, no, it wasn't the deplorable racism that set me off, it was the younger female housemates' attitudes toward Laura's big boobs. At one point, Nicky & Chanelle were fondling Laura out of curiosity over her enormous breasts and the former actually had the nerve to ask if she wanted a reduction! Sensible woman that she is, Laura said no and older housemate Lesley concurred, observing that Laura was obviously happy with herself and shouldn't mess about with her body. [If you'd like to see how events transpired for yourself, the whole incident was captured quite succinctly in this YouTube video.]
What is it with lesser-endowed girls thinking that everyone with bigger tits than themselves would want breast reduction surgery? Perhaps it's just the industry that I'm in, but all of the well-endowed women that I know personally are quite happy with their huge boobs, thank you very much, and would never consider mutilating their mammaries in that manner. I do realise that not all small-chested women respond to big boobs this way, but I'm nonetheless concerned that some big-breasted lovelies who might encounter this unfortunate attitude and lack the self-confidence to not take them seriously.
One beautiful woman who obviously has no such issues is the lovely 38J Ebony-Princess from ChocolateJuggs. Growing up as an overdeveloped youth in her school days, she was thankfully spared the taunts and teasing that cruel, jealous girls so frequently heap upon classmates with bigger breasts and thus remained blissfully unashamed of her ample assets. By the time she was first properly fitted for a bra, she measured out to a full 36F. Then, as she continued to gain weight – our Ebony-Princess being one of those fortunate women for whom the extra pounds make a bee-line straight to their breasts – she finally settled in at the age of 24 with an impressive J-cup bust-line.
I first encountered Ebony-Princess on our Breast Files Forums where she's a member and active participant in its various tits-centric discussions. When like-sized Sapphire first announced her BigBoobGem site thereon, E-P was one of the first to respond, congratulating her and saying, "38J girls RULE!!!" …I couldn't agree more and, considering that this busty black goddess has seen fit to grace our friendly forums with her attentive presence, I thought it only fair that I reciprocate by giving her a little plug on my blog. And so, here's 38J Ebony-Princess from ChocolateJuggs.com: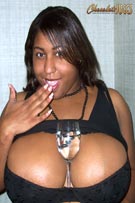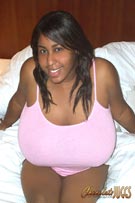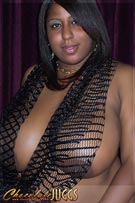 CLICK HERE TO VISIT 38J EBONY-PRINCESS AT CHOCOLATEJUGGS.COM