Regarding my recent Terri Jane Videos blog, I find myself big boobs bemused over the comments debating whether or not her massive tits are real. Well, in an effort to help resolve the huge boobs dispute between big breast lovers at large, I thought I might offer some input as well as share the well-endowed words of busty Terri herself as seen on her all new BustyTerri website…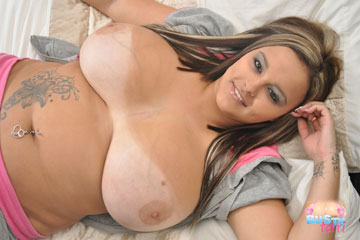 (on her back huge boobs pancaking photo courtesy of BustyTerry.com)
…first off, let's hear from this huge hooters honey herself in a quote from her extremely well-endowed welcome page…
Busty Terri Jane wrote:

Hiya guys welcome to my members area and i just want to say a big massive thank you for joining and i hope you will enjoy the pictures and videos. So a little about me i live in the uk and yes my boobs are 100% real and they are 34 KK they started growning when i was 12 and they are still growning. I hope to get to know all my members… speak soon guys and enjoy the pictures and videos.
…personally speaking, I don't doubt the busty voluptuous veracity of her colossal cleavage claims. Having encountered huge tits teens myself I know the breast flesh is firm at that tender age, so firm tits do not a boob-job make. Likewise, I've had the pleasure of playing with surgically enhanced breasts a plenty and can tell you that a fair few fake tits feel totally natural nowadays, with a sensually soft cleavage cuddly consistency and perfectly large pendulous breast dynamics all but indistinguishable from the real thing, even to the point of some artificially busty girls having their huge tits pancaking off to the sides under their arms when they lie on their backs.
Thus, medical science surrounding massive mammary gland matters has advanced to the point where even bogus boobs can feel, look and move in a 100% natural manner and voluptuous visual, dynamic and even tactile tits assessments can fail to identify fake boobs any more, especially when a woman has undergone large breast enlargement surgery in 2002 or beyond. Big boobs proof aside for a bit (as I'll offer some evidence to support busty Terri Jane's big tits true in a mammary moment), let's take a brief breast break from these contrived cleavage concerns to look at a few preview photos of the considerably cute KK-cup boobs of beautiful 34KK busty Terri Jane at BustyTerry.com…
34KK Busty Terri Jane photos from BustyTerri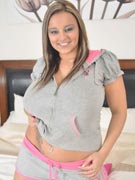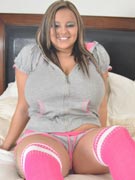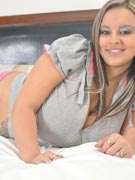 (note: actual photos available for download at the site average 1500×1000 resolution)
….right, then. I'd promised evidence in support of her extremely large natural breasts being real on this very well-endowed woman of the wonder tits (i.e. as in wondering if her massive breasts are all natural or not), and evidence you shall have. In video form, at that. Now, in all the surgically enhanced breasts I've encountered in an erotic, up close and personal manner over the years, although these still sexy tits feel real as big naturals and even setting such massive mammaries in motion can be deceptive like large breast dynamics in nature, there's one big tits tell-tale sign I never fail to find on artificially enlarged boobs – scarring – as I've never seen fake breasts without tit-job hints of subtle scars where the breast implants were inserted.
While it used to be the nipples you'd focus on since there'd be a scar around the areola indicating the surgical point of entry, most modern boob-jobs tend enhance tits by entering through the inframammary fold beneath the breast as its curvature combined with the natural crease created from gravity acting upon big boobs' well-endowed weight will mask and hide a less than naturally busty girl's boob-job scars from view. And so, we must lift her tits off her chest to get a clear perspective looking between her big breasts' inframammary fold where it meets her chesty chest in the bra-band region. While 100% natural tits will be totally smooth where there used to be a curvaceous crease underneath when the inframammary fold has been stretched out, surgically enhanced tits still show a lateral line revealing the region of the scar where the surgical incision was made.
Thus, in the KK-cup busty Terri video clips I'll post below, be sure to pay particular attention to there she lifts her tits up high pressing her huge breasts under her chin so we can clearly see her inframammary folds in all their big boobs glory. Can you see any modern breast enhancement evidence of scarring under her tit-shelf? To me, having zoomed close-up and frozen several frames in succession for analysis, I find the inframammary folds beneath busty Terri's tits to be totally smooth with no evidence of breast enhancement whatsoever, only a few sexy stretch marks marking the natural breast expansion from when her huge boobs began growing and stretching the soft skin comprising the breast envelop within which her busty teen tits grew to their current considerable KK cup size.
Likewise, watching other videos for some more ample breast analysis and examining the large areolas surrounding her little pink nipples in freeze frame format revealed the fact she shows no visible scars around areola circumference either. Finally, scanning under her armpits showed no indentations indicative of the laparoscopic enlargement of keyhole surgery. Thus, my busty voluptuous verdict is that lovely busty 34KK Terri Jane's tits are real and 100% natural as she says but, if some large breast lovers still want to continue their big boobs debate, feel free as everyone is entitled to their big tits opinions.
Personally, I love big boobs be they organically grown tits or surgically enhanced breasts, so my mild-mannered musings on matters of most massive mammaries are provided without prejudice since I'd like big tits Terri either way and am just pleased to get some more new breast flesh on MyBoobSite. :~) So, let these haughty heavy handfuls of dairy dissenters carry on with their faux cleavage considerations, should they so desire, whist we enjoy these preview clips of KK-cup boobs bouncing and getting a big breast massage from their adorable owner in these 34KK Terri Jane videos from BustyTerri.com:
34KK Busty Terri Jane videos from BustyTerri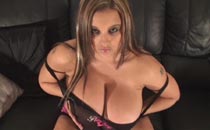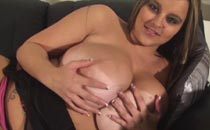 (note: actual videos available for download at the site are 1080×780 HD resolution)
CLICK HERE TO VISIT 34KK BUSTY TERRI JANE AT BUSTYTERRI.COM

Share and Enjoy
→ Return to MyBoobSite for More Big Tits ←