Diana – 36J Busty Christmas Elf
I know I don't usually blog on weekends but, considering that the wife & I will be out of commission from Christmas Eve through New Year's Day, I thought I'd best get on the ball in order to fit in all of the festive busty babes with whom we've been blessed this holiday season – today's addition to our Yuletide bounty of big boobs being the lovely 36J Diana from Divine Breasts.
Now, although Diana's been here before, I must admit that I'd never really noticed how small this girl was (well, apart from her huge breasts where the word "small" doesn't even enter into the equation!)! While I know a lot of guys who are attracted to tall women, my own personal tastes fall more toward the pint-sized pocket plumper end of the spectrum. Thus, my new-found realisation of Diana's positively elfin stature (which may well be merely an "aura of shortness" that the perspective of these photos plays upon my perception) only serves to make her all the more appealing to me. I expect that the proportionally enhanced breast to body contrast ratio of short girls with big boobs is a major factor in this, their small stature making a nice pair of big breasts even bigger. And, indeed, a quick mental run-down of my sexual history reveals that I've never even dated anyone greater than 5'2″!
So, with our Santa hats off to the vertically challenged, here's delightful little Diana being the stunning J-cup busty Christmas elf wearing hers and baring her beautiful big tits for us this holiday season in these photos & videos that come courtesy of DivineBreasts.com: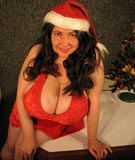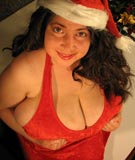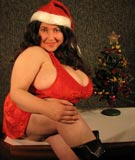 (note: actual photos available for download from the site are 1500×1125 resolution)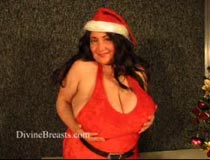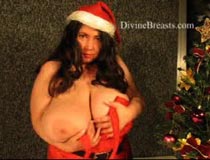 CLICK HERE TO VISIT 36J DIANA AT DIVINEBREASTS.COM

(webmasters)
Share and Enjoy
→ Return to MyBoobSite for More Big Tits ←