Just a quick update from my last Emilia Boshe blog within which I featured a few of her first photos from when she debuted on Busty.pl: Well, I'm exceedingly pleased to report that, after an inaugural two series of teasing us with non-topless pics, she's finally been getting her big boobs out on a regular basis in photos & videos for the site!
Thus, I just wanted to pop in and share a few more pics of pulchritudinous platinum blonde Emilia Boshe – this time with her naked breasts in full view – from her most recent shower scene at Busty.pl…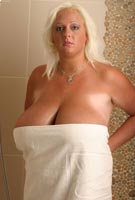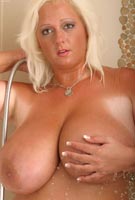 (note: actual photos downloadable from the site are 3072×2048 high-resolution)
CLICK HERE TO VISIT EMILIA BOSHE AT BUSTY.PL
…but whither Nelli Roono? I was chatting with a webmaster mate yesterday who, out of the blue, asked me if Nelli'd got her tits out yet! Sadly, I had to say no. Since my first blog of this magnificent massive mammary marvel, she's released another photo set wherein she keeps her most ample assets shrouded in the same see-though white silk nightgown-y thing she'd worn in the first series. :~(
However, if we recall the preliminary progression of Emilia Boshe back when she first joined Busty.pl, wearing the same general outfit in two consecutive series before baring her boobs in the third, we have good reason to be hopeful. If indeed Nelli follows in her footsteps, then we can reasonably expect to actually see her tits in the very next series she posts on the site (and, if she doesn't get 'em out by then, I shall be sorely disappointed)!
And so, with fingers crossed, I anxiously await her next offering as I, for one, am desperate to get a good long look at those huge heavy hangers, as I sincerely believe they could earn her instantaneous superstar status in our big boobs biz. But, until then, here are a few more huge tits teaser pics from a still shy Nelli Roono at Busty.pl: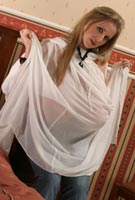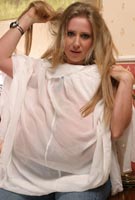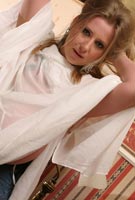 (note: actual photos downloadable from the site are 1536×1024 high-resolution)
CLICK HERE TO VISIT NELLI ROONO AT BUSTY.PL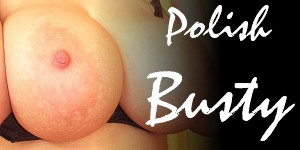 Share and Enjoy
→ Return to MyBoobSite for More Big Tits ←