From the moment I first beheld beautiful Nelli Roono at Busty.pl, I've been seriously struggling to come up with a title for today's big boob blog. Trouble is, this well-endowed woman is so absolutely amazing in the massive mammary department, words fail me. Thus, unless I come up with anything better in the interim that would come close to capturing the degree of flattery this stunning girl is due, the title is and shall simply remain "Nelli Roono".
It was my webmaster mate who runs TheBreastFiles that I hold responsible for setting me off on this torturous journey by Yahooing me this link in the course of causal conversation yesterday. My first thought was, "Could these be real?!" I mean, I never imagined in a million years that I could find a big boobs model to rival Tina Small (whom Nelli Roono brought to mind instantly by way of comparison), but then I remembered the general consensus that Tina's titanic tits were nothing more than huge prosthetic breasts attached to her torso much in the manner of Zena or Cindy Fulsom from days gone by. This saddened me greatly as I've always lived in hope, keeping the faith that such exceptionally well-endowed women could exist in reality.
It was this hopefulness that such huge natural breasts could be more than just a fantasy fostered by such breast-fetish fakery that inspired my next thought; that perhaps Nelli Roono suffers from Virginal Breast Hypertrophy or VBH (more commonly known as juvenile macromastia or gigantomastia within the medical community), a condition I'd first described in my TW Girl blog and in which a girls breasts grow to unfeasibly large proportions during puberty. If this is the case, then Ms. Roono's massive breasts with their colossal cleavage are indeed her own, making her one of those well-endowed wonders of nature we witness all to rarely and kudos to Nelli for being brave enough to share her big boobs burden with us who can appreciate such remarkably ample endowments on a woman.
That resolved comfortably to my mind, the next major challenge facing me was which pictures to choose for Nelli Roono's debut on MyBoobSite. Big breasts aside, she's a gorgeous girl with a reserved slyness in her smile that implies an underlying sexy nature. The distinctly different inner qualities that shine through in each and every photo rendered this a near impossible task. In the end, though, I settled upon a dozen that captured the essence of allure I found in this busty Polish girl who could well come to rival Kate Bona in terms of my affections toward beautiful big tit blondes from my family's homeland! And so, it is with profound pleasure that I present Nelli Roono in her big boobs debut at Busty.pl: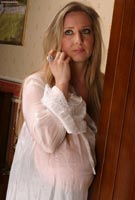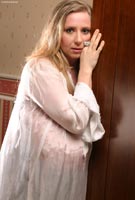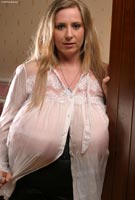 (note: actual photos downloadable from the site are 1536×1024 high-resolution)
CLICK HERE TO VISIT NELLI ROONO AT BUSTY.PL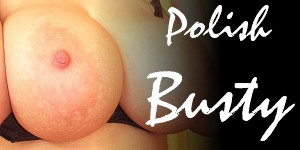 Share and Enjoy
→ Return to MyBoobSite for More Big Tits ←