…or, Storm in a P-cup – Mega-Busty Japanese AV Idol Fuko Fucking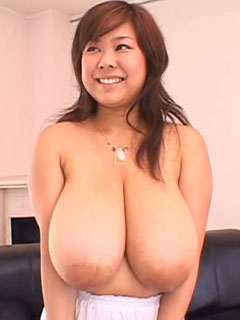 'Twas scarcely a month ago that your innumerable e-mails and comments commenced in earnest and, to date, I have received no less that three hundred messages expressing the self-same sentiment: "Hey, Reese!! Have you seen that Fuko is doing hardcore now?!" And, although I'm well aware that our beautiful busty Asian fertility goddess has indeed started fucking, it's taken me this long to obtain the permission necessary to feature this Earth shaking, ground breaking event in Eastern erotica on the big boob blog.
It was nearly two years ago that I'd first featured Fuko on MyBoobSite, and the big tits fantasy prospect of seeing Fuko fucking seemed but a distant dream. Why, even her first topless photos were brought well into question due to the apparent indeterminacy of her age when said tits pics were taken…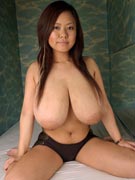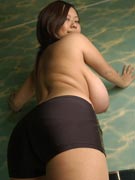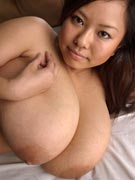 …but that's all in the past now as our most illustrious slim & stacked but mega-busty Japanese AV Idol has at long last discovered the joy of sex wherein we get to witness this remarkably well-endowed wonder taking a throbbing hard cock firmly in hand, mouth, tits & pussy in her first hardcore appearance ever to grace the world of big tits porn! No longer must we merely imagine the massive mammary magnificence of a P-cup titfuck (by Japanese cup-size measures), let alone losing a whole forearm within the gargantuan glory of her colossal cleavage whilst fist fucking her huge tits.
Finger fucking, tit sucking, busty blowjobs, cunnilingus and pussy penetration both by penis & dildo, Fuko literally does it all leaving no stone unturned in this first delightful foray into the dark & steamy underworld of Japanese hardcore porn as we play a rather overtly sexual version of "what have we pixellated?" [Honest, I will feature some uncensored busty Asian porn here at some point, I've just not got around to it yet.] And so, I'm pleased as punch to finally feature pulchritudinous Japanese P-cup plaything Fuko fucking for the first time ever in these hardcore vidcaps from LusoPorno's Busty-Asians:



CLICK HERE TO VISIT JAPANESE AV IDOL FUKO AT BUSTY ASIANS

Share and Enjoy
→ Return to MyBoobSite for More Big Tits ←