For some reason, I had the good fortune of finding myself still awake at 2:00am last night. This was good because it gave me the opportunity to read an e-mail that suddenly popped up in my in-box. Now, I tend to get lots of mail from visitors to MyBoobSite…however, it's not every day that I get one from a gorgeous, blonde, sexy, voluptuous Scoreland model! Anyway, from the moment I read "Hi there, Reese, this is Taylor Stevens", I was riveted (did I mention she had G-cup tits?!). She'd written to say that she'd come across my blog and just wanted to thank me for linking to her live webcam site. Taylor then went on to offer pics for me to post, hoping that we could somehow work together. Needless to say, I responded right away (and asked for videos, as well!).
When I woke up this morning, I was thrilled to discover three more e-mails from Taylor. These were the best kind of e-mail, too – e-mail with attachments – attachments labelled things like "pics for Reese" & "video for Reese" (there's nothing quite like an in-box bursting with big boobs to start your day)! :~D I just wished she hadn't written "let me give you whatever I can", though, as that line has had me rather distracted for most of the morning (mmmmm, in my dreams, right?). ;~)
So, after several hours of perving over her photos and videos, I figured it was time to pick a few to share with you. I'm just disappointed that I was only able to share a handful of what she'd sent to me (and Taylor's far more than a handful, believe you me!). Not to worry, though, as there are plenty more where these came from at Taylor Stevens' iFriends Fan Club! It's totally free to join, and you get instant access to countless free photos and videos from her fan club archive. How can she do this for free, you ask, especially when she's trying to fund her way through college? Well, all of the freebies are there to promote iFriends' interactive videochat…thus, when you decide you want to do your very own live webcam session with Taylor, that's when you have to pay (but, then again, there's a free preview of that, too!). Truly, it's the ultimate source of free porn!
Once you've signed up for Taylor's free fan club, you'll have access to literally thousands of well-endowed women waiting to chat with you. However, I'd be hard pressed to escape the grip of the captivating Taylor ("hard" & "grip" being the operative words there). She's the ultimate dream girl, really – kind of like Britney Spears, but with boobs! She has this way of just drawing you in, making you feel a part of her life. You get to learn about all of her endearing quirks: how she dresses her dog, Pixie, for Halloween; how she collects chess boards, but doesn't play the game; how she makes a habit of going to lingerie shops and trying on bras that are too small, just to see the look on the salesperson's face. She even sends Christmas gifts to her fans! Besides, I can't help but love a girl who masturbates more than I do and lets her laundry pile up for two weeks before doing owt about it. Indeed, Taylor's the perfect virtual girlfriend (oh, and did I mention those gorgeous G-cups?).
But enough talk. Here's just a small selection of what you'll find when you register for Taylor's free fan club…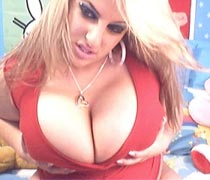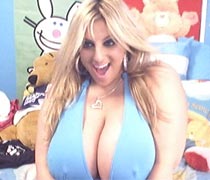 …then, of course, there are the videos: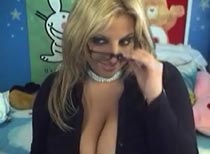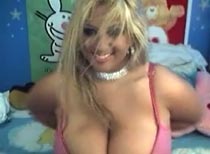 CLICK HERE TO VISIT THE TAYLOR STEVENS FAN CLUB
(webmasters)
Share and Enjoy
→ Return to MyBoobSite for More Big Tits ←