Now here's something you don't see every day, E-cup tits on My Boob Site!..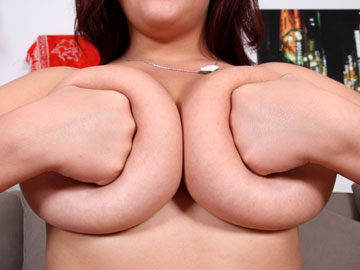 …the below our mammary gland minimum but still reasonably big breasts above belong to beautiful 32E busty redhead Lana Ivans as featured in her recent softcore shoot for the XX-Cel site and, forgive me, but I just wanted to use her tits today to make a point (no, not that kind of point). Despite her being a cup-size smaller than the standards of measure for my ideal woman, lovely Lana is still a stunningly sexy girl with a most beautiful breast shape (and seeing nice norks with inverted nipples is a bit of a novelty here, too!). And so, with push-up bra tits packed tight in a top cleavage tease stripping nude, here's E-cup busty Romanian redhead Lana Ivans from XX-Cel.com…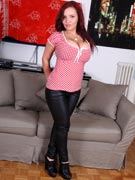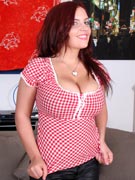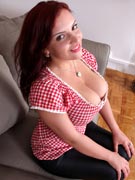 (note: full photos available for download at XX-Cel are 3000×2000 resolution)
CLICK HERE TO VISIT 32E LANA IVANS AT XX-CEL.COM

…no, wait, I'm not done yet! To be honest, 'twas that last ass on big boobs from behind shot that really clinched the deal for me since, before I began paying attention to tits' statistics, I always used to judge a girl's juggs by whether or not you could see the curvature of her breasts from just such a rear view perspective (in fact, my first wife was only a C-cup, but even she had a bounty of boobage from the back side as well, and so they were big tits to me). So, you see? Cup-size isn't everything in assessing the ample bosom, not even in my large breast obsessed case; there are also "back boobs" to consider! ;~) Then again, luscious Lana Ivans looks good from pretty much any angle, so here she is, once again, stark bollock naked as presented in continuously rotating perspective, courtesy of XX-Cel.com…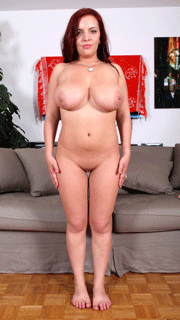 ("4×4 photo" courtesy of XX-Cel.com)
…but even cup-size is not the issue today, as the point I really wanted to make was with regard to my fucking hardcore porn post from last week. A favourite comment came from my mate Elliot James, an esteemed author from The Score Blog, who had this to say about my problem with porn…
Elliot James wrote:

Reese, are you switching over to watching romance and lovemaking? Are you eating boxes of chocolates and drinking rose while you view new videos? Are you also reading Harlequin romance novels? Do you watch Lifetime movies now? Please don't tell me that.

And 'endure' is not the word. She definitely seems to enjoy hot, nasty action.

Never forget Russ Meyer's definition of eroticism. "Out of focus sex photographed through dirty wineglasses."
…well, yes, Elliot, I do prefer to watch two people making love, or at least trying a little tenderness in a hardcore context, rather than all of the fucking rough sex I've seen lately. Whatever happened to a slow, comfortable screw? Do the vast majority of porn surfers actually like seeing a guy take a girl and basically begin "masturbating with her hips" (something that was once said about an ex- slut girlfriend fuck-buddy of mine with respect to her abusive boyfriend at the time)?? Can we not simply relish the sublime eroticism of two (or more) lovers enjoying each other's bodies to the point of orgasm?!
Apparently not!! Oh, and with regard to your other inquiries; yes, I do eat a lot of chocolate, but prefer a good claret over rosé any day; I'm not so much into romance novels, as it's strictly visual or aural erotica for me; and, no, I'm not even sure we get the Lifetime channel here in Britain! However, I do know what I like in my hardcore porn and, while I can appreciate there are a fair few horny girls out there who really enjoy a quick & dirty seeing to hard fucking fast, we just don't get to see enough of the soft & sensual side of sex in hardcore porn of late. And that's the real reason I brought lovely Lana to my boob blog today, as her most recent video on XX-Cel Cel's Heavy on Hotties hardcore site represents the total antithesis of tenderness to me. :~P
So, apologies if you find this as offensive as I do, but I'm just trying to put my point across (and am most curious about all of your opinions either way), via 32E busty beauty Lana Ivans' hardcore video from HeavyOnHotties.com:
Loading the player…
(right click here to download video)
CLICK HERE FOR LANA IVANS HARDCORE AT HEAVYONHOTTIES.COM

Share and Enjoy
→ Return to MyBoobSite for More Big Tits ←