I'd taken a walk to our local shop yesterday to fetch some provisions for the evening (namely red wine & chocolate) and, as I was standing in the queue, I noticed a big stack of Daily Sport newspapers folded over on the stand so that only the top half was showing. The most prominent headline read something like "It's Official! I've Got the Biggest…" and that's all I could read. Curious, I picked up the paper and turned it over to find that it was the biggest breasts they were referring to along with a pic of Maxi Mounds and a parenthetical subtext promising nude photos inside.
As I'm not terribly fond of the Sport since they'd shafted Vix back in 2004 by publishing nearly a full-page spread of her without including so much as a link to her charity site from which the photos were taken, I didn't buy a copy. However, considering that the story qualified for an amusing little "boobs in the news" post, I decided instead to look it up on-line and found the following photo from the Telegraph (although the accompanying article has since been inexplicably removed from their on-line edition)…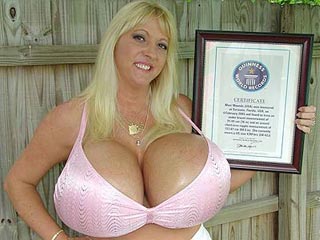 …apparently, Ms. Mounds had contacted the Guinnes Book of World Records some time ago after having seen their record for the biggest natural breasts and suggested they have one for fake tits as well. Although they'd turned he down initially, the Guinness folk got back in touch with Maxi a few years later and asked if she was still interested as they'd recently created a new category to encompass fake boobs. And, with an official chest-over-nipple measurement of 60.5 inches, she won!
Although I don't normally blog surgically enhanced breasts on MyBoobSite (unless it's someone like Hannah Callow where the implants are not so obvious), I do rather enjoy how the British press obsesses over breasts. Indeed, not a day goes by that I can't open a newspaper and find some article about big tits or topless photos of some well-endowed model. And, since Maxi'd made the front page with this story, I figured it might be fun to momentarily break our customary tradition of huge natural breasts and give her an honourable mention here.
Ms. Mounds' enormous boobs are the result of polypropylene string implants which, once inserted into the breast tissue, continue to grow perpetually by virtue of their absorption of bodily fluids. This procedure, which was only truly popular amongst adult entertainers and sex workers, has since been banned both in the U.S. & Britain over concerns about its safety. Maxi, unimpressed by what could be achieve with standard silicone implants, opted for this "silly string" solution to her mega-breast enlargement aspirations back in 2000 and they've been growing ever since.
My first stop in seeking out content to include with the story was, of course, Score – well renown as an equal opportunity employer of both big naturals and artificially-enhanced breasts – but was able to find but one gallery of Ms. Mounds amidst their promotional content…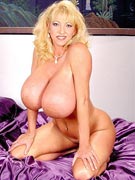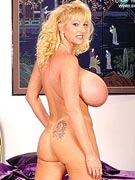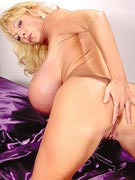 CLICK HERE TO VISIT 36MM MAXI MOUNDS AT SCORELAND.COM

(webmasters)
…and so, I turned to PhotoClubs, who cater primarily to admirers of the unfeasibly large silicone queens of yesteryear (presumably before so many girls started growing huge tits naturally), and hit the MM-cup Maxi Mounds motherlode…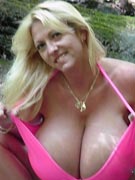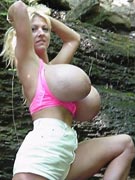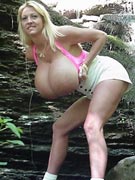 CLICK HERE FOR MORE OF 36MM MAXI MOUNDS AT PHOTOCLUBS.COM

(webmasters)
…but, truly, to get a firm perspective (and I do mean firm) upon the extreme breasts brought about by the dangerous and now-banned string implant procedure, we need videos. And, since Photo Clubs does precisely what it says on the tin, I instead had to hit up their video-based sister site Bosom Box to find Maxi Mounds' massive mammaries in motion. Oh, and since I was there, I though I'd include a few more of BB's monster tits models for their tit-illation value. And so, once again, here's 36MM Maxi Mounds along with Chelsea Charms, BB Gunns & Colt 45 courtesy of BosomBox.com…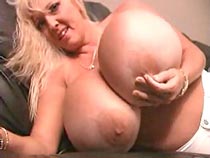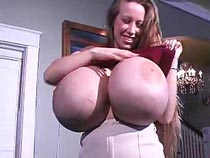 CLICK HERE FOR MORE UNNAUTARLLY HUGE TITS VIDEOS FROM BOSOMBOX.COM

(webmasters)
…gosh, I'm glad that breast augmentation technology has advanced so far since then, as the fake tits I've head the pleasure of fondling in recent times are so indistinguishable from their all-natural counterparts in look, feel and dynamics that you'd be hard-pressed to tell them from the real thing (even if you do press hard!)! Ah, the miracles of modern medicine… ;~)
Share and Enjoy
→ Return to MyBoobSite for More Big Tits ←