Remember those hardcore thumbs I've raved on and on and on about at Score? Well, sad to say, big breast loving boys and girls, they are no more. Yes, the self-imposed censorship of hardcore porn previews spearheaded by DDF Busty is now in full swing and it further seems the good folks at Scoreland have jumped on the exposing boobs-only bandwagon for their hosted picture galleries. Granted, this poses little problem for massive titted black beauty Miosotis since, even when she goes titanic tits topless wearing no panties, those huge, pendulous breasts hang well past her pussy in pics like this…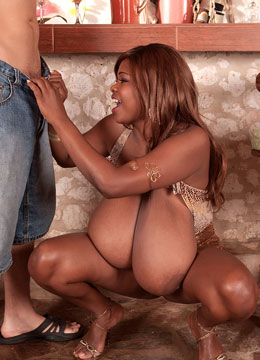 …while the above photo of Miosotis undoing her sex partner's pants hold a portent of the hardcore big tits penis play promise this horny heavy hangers series holds, it's nonetheless the final photo for this gallery which is surprisingly softcore to say the least. But, wait! What's this that I see in the 12th photo below? Why, it appears to be an uncensored pussy licking cunnilingus shot (yay! especially considering I've been going a bit cunnilingus crazy of late)!
Then again, our magnificent mocha maiden of massive mammaries is no stranger to such cunt licking content, so I supposed I shouldn't be surprised she's got some oral sex on show once again. And, just think, if Miosotis was sitting comfortably whilst you went down on her, your cunnilingus giving head could double as a convenient breast rest for those big black boobs! Ah, but I digress.
But, even though I'm a serious hardcore hound when it comes to the porn I like, there's still plenty to please the boob loving lot. Prime case in point, fans of nursing nipple suckling can appreciate the enormous breast suction Mio's titty licker must be exerting to loft that gigantic tit sucking it up from her chocolate chest hands-free! And so, let's not be jaded by giant juggs in softcore boob foreplay scenarios and instead just enjoy extremely well-endowed Miosotis' exceptional ebony assets in these photos from Scoreland.com…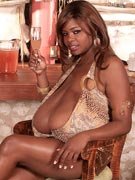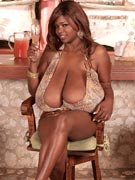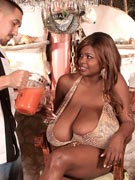 …now, I had actually intended to tit blog these photos on mammary Monday but, alas, life beyond big boobs got in the way of my best laid plans. But, in reality, my procrastination proved to be a bonus since making another voluptuous visit to Score revealed Miosotis' hardcore video from this series had since been added to their big breast video galleries and, unlike her big tits pictures above, we get Miosotis fucking full-on with uncensored penis pussy penetration and everything along with a big black boobs titfuck as well! Thus, taking back everything I've said so far today, once again, here's gorgeous gigantic breast goddess Miosotis in videos from Scoreland.com: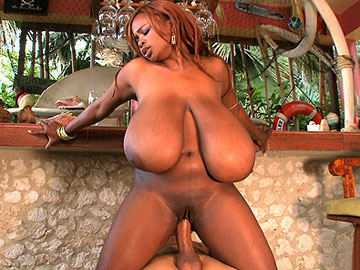 CLICK HERE TO VISIT MIOSOTIS CLARIBEL AT SCORELAND.COM

(webmasters)
Share and Enjoy
→ Return to MyBoobSite for More Big Tits ←