Happy New Year from My Boob Site everybody! Before V & I head out for the 2010 New Year's Eve festivities, I thought I'd share just one more pair of gigantic breasts paired up with some nice big tits before 2011 is well and truly upon us, the massive mammaries in question being the KKK-cup breasts of tits magnificent Caribbean cleavage queen Miosotis Claribel 36KKK and the comparatively diminutive yet nonetheless really nice big boobs being the gorgeous G-cup breasts of stunningly sexy and beautiful busty Arianna Sinn 34G since, as those extremely large breast lovers of busty girls comparing boobs will surely "cum" to appreciate, have got together going girl-on-girl and tit-to-tit for the fine Score folk! And so, here's extremely well-endowed bosom buddies Arianna Sinn and Miosotis together in large breast comparison photos from Scoreland.com…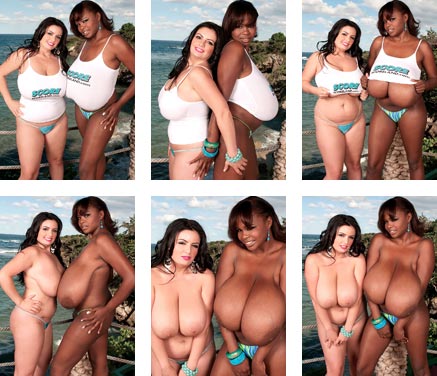 …however, as hyper-erotic as it may be to see such massively huge pendulous breasts enormous totally dwarfing such generous G-cups – not to mention the stark bollock naked contrast between big black boobs and white tit flesh – I've got something even better boobs-wise to share today. You see, taking a voyeuristic adventure on over to adorable and sensual Arianna Sinn's own BustyArianna website, it seems she and Miosotis are on far more friendly terms than just a couple of busty girlfriends rubbing boobs together!
And, lest you think our buxom beauties are just going to get some big tits lesbian action going on between them, it seems as if they've invited a couple of penis pals along for the ride, too! What ensues is a busty bisexual sex-travaganza – an interracial threesome / foursome group sex orgy of fucking epic proportions replete with busty lesbian cunnilingus and big boobs blowjobs and tit-fucking large breast sex in almost every conceivable combination!
The first fuck goes to Arianna Sinn, after which we get to see Miosotis licking cum off her tits jizzed up after the first orgasm of breast ejaculation cums forth. Then a big boobs swinging interracial foursome ensues with busty black beauty Miosotis masturbating Arianna Sinn who's tit-sucking her female masturbation partner with their extra pair of boner boys fondling big boobs as they gaze with wonder upon the well-endowed women lezzing it up before their horny eyes, after which a well-fucked Arianna Sinn retreats from their orgy of boobs to take up the sexual position of voluptuous voyeur / sex spectator to watch Miosotis fucking with huge boobs hanging halfway to the floor.
Honestly, there's such a busty voluptuous variety of interracial sex acts going on in this colossal cleavage collection of big tits threesome and foursome videos (did I mention there was a "udderly" massive breast Miosotis titfuck in there as well in which busty Arianna lends a helping hand?) that I'd be hard pressed to describe it in explicit graphic detail worthy of the quality visual big breast erotica it represents.
Thus, I'd best just wish you all a Happy New Year one more time (Happy New Year!), shut the fuck up and get on with the clips (oh, and I've provided links below each .wmv video gallery just in case you need the .flv video version instead (which you may wish to watch anyway since the FLVs have slightly different video clips within)). Once again, our super busty beautiful boob-some two-some playing girl-on-girl together, this time with added cock in huge hooters hardcore Arianna Sinn & Miosotis videos from BustyArianna.com: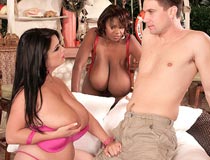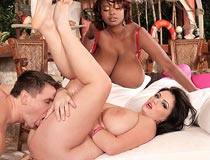 ^ video gallery above in .wmv format – or click here for the .flv flash video ^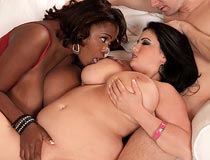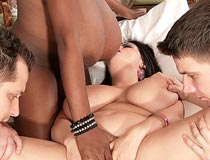 ^ video gallery above in .wmv format – or click here for the .flv flash video ^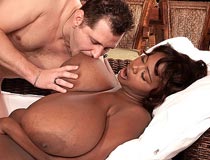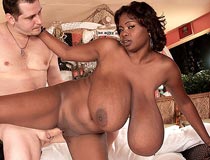 ^ video gallery above in .wmv format – or click here for the .flv flash video ^
CLICK HERE VISIT ARIANNA SINN & MIOSOTIS AT BUSTYARIANNA.COM

(webmasters)
Share and Enjoy
→ Return to MyBoobSite for More Big Tits ←