Big thanks to all who commented on my last Jenny Hill blog (including Jenny herself!). I suppose I should also apologise for not crediting the many folks who'd been begging for Jenny since December of last year but, honestly, there were just too many of you! In the end, Jenny told me that it was Studio B who at last prompted her to get in touch with me (thanks, Dave!).
In answer to a couple of the questions you'd posed in your comments: Yes, it just so happens that I am from the American South – Florida, specifically, before I upped roots and moved here to the UK. When I did live there I was always particularly fond of both Hispanic and black women because they invariably seemed to have the biggest boobs (which I suppose is a form of discrimination in and of itself, but in this case against the lesser-endowed Caucasian women). As for asking you some months ago whether you all wanted to see more beautiful black breasts and falling a bit short of the mark, the only excuse that I can offer is that I tend to blog those models who correspond with me and send me pics…of which, at the moment, happens to be an overwhelming majority of white women. But fortunately, as of late, I've been able to count Jenny Hill & Ebony-Princess amongst my busty e-mail mates, so hopefully the balance will begin to shift!
And, speaking of Jenny Hill, she just this morning sent me a nice little note along with a lovely packet of photos of her stunning Nubian goddess-ness lying in bed! I have to admit, when previewing the pics, that I could scarcely tear myself away from the second photo below to look at the rest of the series. The sight of the voluptuous Jenny propped up on her pillow with her massive Q-cup breasts hanging heavily down below her imminently cuddly belly with one succulent chocolate nipple appearing enticingly erect had me rigid in my seat (in more ways that one ;~) (and, Jenny, I must admit that the intensely erotic yet teasingly playful look you're giving drew my amorous attentions even more than your tits!)).
But seeing as Jenny's almost too gorgeous for words, I might as well just stop now and show you the pics that she sent. Thus, here's busty black BBW Jenny Hill and her 38Q breasts sharing a bed at BBWJennyHill.com: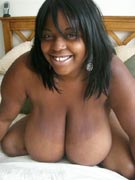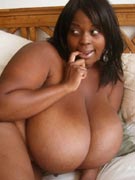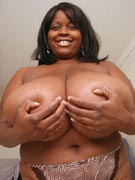 CLICK HERE TO VISIT 38Q JENNY HILL AT BBWJENNYHILL.COM

Share and Enjoy
→ Return to MyBoobSite for More Big Tits ←