MyBoobSite readers can be cheeky gits from time to time (ah, but we love them anyway, don't we?). Take this dramatically off-topic comment Jes left on yesterday's Lorna Morgan blog, for example…
Jes Says:

Hey guys, look! Some very rare pics of the lovely Vix,…smiling!

http://blogs.thebreastfiles.com/vix/2007/11/06/clothes-and-why-i-hate-them/
…like I said, cheeky git! ;~) Well, Jes, I can tell you on good authority that Vix does smile – quite frequently in fact – it's just a bit more subtle than in that particular "laughing her tits off" photo gallery referenced in her blog entry (which, interestingly, was the very first shoot she ever did for her new site). Typically, it's far more, um, "demure"…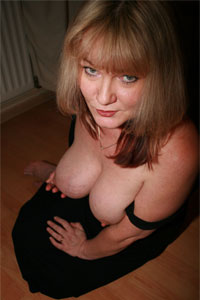 …by the way, that nipple-pulling pic above was taken just last weekend at our friends' house where they'd kindly hosted a combination housewarming party for themselves (the likewise-cheeky gits copied us and bought an old church house, albeit with a much bigger graveyard than ours) and early onset anniversary celebration for Vix & me (thanks J & T!).
It was indeed a lovely house party and loads of our out-of-town friends whom we don't get to see very often were in attendance to share in the festivities. Thus, much smiling ensued, even going so far as the rare but occasional semi-toothy grin from Vix! Of course, that oversight of the baring of teeth on Vix' part could just be a symptom of the copious amounts of alcohol consumed on the occasion, whereas the usual fare was the far more common reserved smile such as that elicited by holding a kitten (that's "Dave" in the linked photo, by the way, who'd thoughtfully awakened me early Sunday morning with the painful and relentless sensation of a thousand tiny needles piercing my bare chest).
My only complaint about the weekend was entirely our own fault, as Vix & I had vowed not to have sex with anyone since we were still awaiting the final results of last week's visit to the sex clinic (which I'm pleased to report came back today with the "all clear"!). 'Twas a marvellous time, though, even without the sex (although we did get to play the voyeur for a change, sitting back and enjoying the sexual shenanigans of others fucking in our midst). Good food, good drink and good company all around. You know, we really must do it again sometime!
Wow – I just realised something: You know how weblogs were originally conceived as a way of keeping an on-line public journal-cum-diary to share your day-to-day experiences with friends rather than merely a vehicle for pushing porn? Well, in today's entry, I appear to have done just that! Reese has done a real blog – how cool is that?!
Not to get carried away, though – this is MyBoobSite after all. Thus, I would be totally remiss if I didn't include more tits in the post. And so I shall carry on with a few more pics of our lovely webmistress Vix from the weekend (in which she is, coincidentally, wearing the very party dress she'd mentioned buying in her blog) courtesy of Vix' Playmate Site: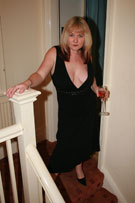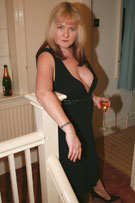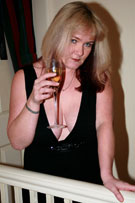 (note: actual photos on the Vix' site are 1042×682 resolution)
CLICK HERE TO VISIT VIX AT THEBREASTFILES

(webmasters)
Share and Enjoy
→ Return to MyBoobSite for More Big Tits ←