Well, it's at long last that magickal day when we take down our Christmas trees and put away the decorations for another year (everyone does do that on the Epiphany, don't they?), but I wanted to share just one more heavy handfuls holiday-sized H-cup helping of erotic Christmas boobs just because I'm rather erotically enamoured with the busty model involved (not to mention her controversial creampie eating videos having sparked one of the biggest cunting flame-wars MyBoobSite has ever seen) and somehow missed out on her massive mammaries when selecting my Christmas porn content…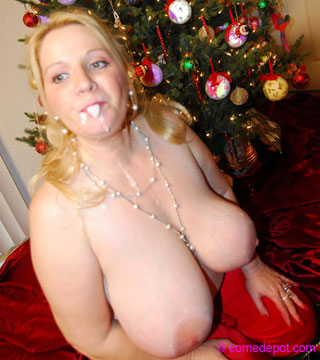 …the beautiful busty slut with cum on her face after giving a blowjob beneath the Christmas tree and her huge pendulous breasts hanging naked against her chest (which is surprisingly cum-free from her swallowing most of the copious cumshot sucked-off Santa Cock had to offer) is the ever lovely 36H Jenny Seemore from Come Depot, and I offer this belated big boob blog in a manner of apology for having overlooked her ample assets when the spirit of the season was in full swing (which seems an appropriate phrase since she's one of those sexy swingers as well). And, since I love sluts (always have and always will, which is why I like Jenny so much), please permit me to indulge in a little post-Christmas fantasy I myself indulged in (wink-wink) quite recently:
In my waking wet dream (or wanking wet dream to be true to the form that my sex fantasy took), I was sitting at a table in a bar across from a couple of other people. Behind me was this beautiful busty blond milf sitting on a barstool casually dressed in a loose-fitting t-shirt and blue jeans. I could tell she had reasonably big tits despite the loose-fit by the way her big breasts rolled across her chesty chest shifting the mammary covering material as she moved. Although her heavy hooters shifting about beneath her shirt making marvelous meandering erect nipple dimples moving to and fro framing her clothed cleavage was almost hypnotic, I turned back around – after all, it's impolite to stare at a girl's tits for too long – just as a man was approaching her with his drink to engage this big tits temptress in conversation.
Although I was trying my best to be a good boy (which is quite difficult for me when there are big boobs about), a few minutes later I noticed one of the women sitting across from me staring in the general direction of said blond booby babe with a look of shock and horror on her face. Unable to help myself, I turned around to see what she was gawping at only to see casual conversation man pressing himself up against the big boob blond's chest in a manner of frottage before reaching his hand up and groping her tits through her t-shirt. From behind me, I heard starey woman exclaim, "The nerve of some people!" just as gropey man slid his hand under her t-shirt to fondle her breasts nude in the flesh and play with her nipples (which had grown quite erect judging by the bulging nipple bumps in her t-shirt) whilst simultaneously reaching down between between her legs and rubbing her crotch though her tight jeans with his other hand.
While I kind of agreed with the mortified female across from me, especially since this heavy petting trouser sex was transpiring in a public bar in full view of everyone therein, I couldn't help but get an erection watching this obvious sexual predator fondling and groping this poor girl oblivious to all of the shocked onlookers. "Hmmm," I mused, "perhaps I am a closet voyeur after all!" However, despite my being rather visibly aroused from being so turned on by the sudden sex scene transpiring before me, predatory bloke was getting a bit rough in taking his lewd and lascivious liberties with this lovely lass who was not returning his sexual attentions in the least – yet not putting up any resistance either – so I decided to step in and rescue my damsel in distress and sat her down in a chair facing me.
I settled myself in next to her, turned to place my hand of her knee and asked if she was alright. "I'm fine," she replied before placing her hand upon mine and, squeezing it hard into a fist, shoved it into her crotch. I could feel that her jeans were soaked from the uninvited pussy groping earlier and could only imagine how wet her twat must be beneath the tight denim fabric stained with her vaginal juices. As she was the one to make the first move (as it were), I left my clenched hand between her legs and leaned over towards her, propping my weight up on the wrist she now had clasped between both of her hands. I felt her pulling me hard into her crotch whilst bucking her hips and wet humping my hand in a sort of trouser fisting motion.
I suddenly lost all consciousness of my surroundings as if lost in some naughty nirvana as this insatiable nympho with big tits and erect nipples kept masturbating with my arm between her legs, all of my senses and sensibilities instead focused upon the growing sensation of wetness on my knuckles as she knuckle-fucked me with her wet cunt clothed in jeans. I strained to feel any hint of her throbbing big clitoris or swollen labia lips pressed against my moist flesh as if pussy-jacking an arm-sized cock, but the denim proved too thick to feel the aroused female genitalia imprisoned in her pants. Inside, I could feel myself falling in love with this busty slut girl using my body parts for her own personal pussy pleasure and, outside, she was the only thing that existed for me in the whole wanking world (or should that be for me the only sexy girl in the hole wanking world instead?).
But her succubus sex spell was broken quickly by the uninvited arrival of groping guy from before who had surreptitiously sidled up to my manual masturbation maiden and began manhandling her massive mammary glands once again. He was being far more sexually aggressive and much rougher than before, squeezing her tits hard and pinching her nipples even harder, I had to put a stop to the unwanted sexual abuse he was inflicting upon her poor boobs, fearing even further that he'd reach down with his free hand to unzip his bulging trousers and whip his dick out to give her something hard to suck on with a forced fellatio cream-filled finish in a face-fucking she'd never forget as she sat there fist-fucking me with him standing over her. I took firm hold of his wrist with my free hand, forcefully pulled his hard groping hand off her breasts and said shouting, "That's enough, mate!"
He quietly apologised to both of us and wandered off. I leaned over even farther to give her a reassuring gentle kiss to assure her that her ordeal with this annoying sex pest was over, and she graciously accepted. I then removed my wet hand from her soaked gushing crotch and then, stealthily passing my well-fucked fingers under my nose so I could get a sly sniff of her sexual secretions (I so wanted to lick my hand just to taste her pussy juices on my tongue, but that would've been too obvious), sat bolt upright and folded my hands across my lap to conceal the pre-cum stains soaking through my own jeans. "I could so easily marry this girl," I imagined. But, alas, with her busty slut sex spell broken by his fucked-up frotting intrusion and my ultimate sexual fantasy rapidly disintegrating into the stark and cold, hard reality that it actually was, I realised in an epiphany that I already had. :~)
But enough about me and my sexual fantasies cum sexual reality as we're here today to instead indulge ourselves in staring at tits of the 36H variety – said H-cup breasts being the big boobs of busty Jenny Seemore – as she puts the finishing touches on decorating her tree before settling down for a long Christmas nap on a nice pair of naughty pillows conveniently perched like a built-in set of fleshy airbags on her chest in these final but fabulous festive big tits Christmas photos from ComeDepot.com…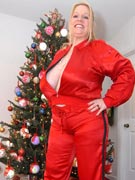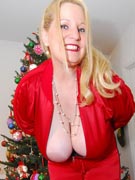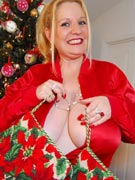 …ah, but napping was not on the cards for a naughty girl like Jenny, as Santa Claus had arrived early with his erect Christmas cock out in hopes that a nice blowjob would soon be there (which is quite obviously what's required to get naughty girls transferred to sex-starved Santa's "nice" list since, as we're all painfully aware in a sexual abstinence inspired swollen blue balls fit to burst sort of way that poor Santa cums but once a year and, after all, who doesn't enjoy a really nice cock sucking cum swallowing blowjob? (I know I do!)). And our delightfully over-sexed promiscuous penis-loving naughty nymphomaniac cock slut doesn't let a little thing like an oral orgasm stand in the way of her blowjob enjoyment – on the cock milking contrary, lovely lust-driven Jenny just keeps on sucking after he's done ejaculating his jizz-laden load of Santa Claus sperm in her mouth to drain his balls of every last cumshot drop of seasonal semen they have to offer! Why she raises her red stiletto fuck-me pumps in celebration of a blowjob well done is anyone's guess, but that last shot of our cute curvaceous cutie with cum on her chin just wraps things up in a post-blowjob bow for me (after all, I do love a girl with cum dribbling down her chin). And so, bidding adieu to our Happy Holidays from My Boob Site, here once again is super slutty busty blond Jenny Seemore performing fellatio in festive Christmas penis sucking cum swallowing blowjob photos cumming cock-loving courtesy of ComeDepot.com: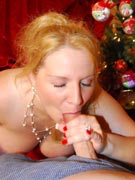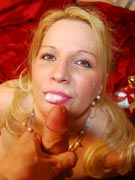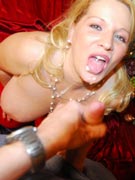 CLICK HERE TO VISIT 36H JENNY SEEMORE AT COMEDEPOT.COM

Share and Enjoy
→ Return to MyBoobSite for More Big Tits ←