Small boobs on MyBoobSite?! Udder heresy, that is!! However, it's not the first time, as I once used comparatively tiny tits and flat-chested girls to illustrate a point when I inquired if you'd be happy dating a girl with small breasts some years ago. Thus, it's not without precedent.
This self-same big tits / little tits question actually cropped up in my own life as well toward the turn of the millennium when I left my beautiful busty wife to start an illicit affair with a girl who had smaller breasts than my well-endowed wife. What was I thinking? Sure, there was the fact my new mammary gland impaired mistress & I really connected with each other as true soulmates from the get go – not to mention that she fucks like a rabbit and sports sucking skills that would make an Electrolux flush with envy – but, still, there was the underlying issue of small tits to contend with in my life-long breast obsession fetish for big boobs.
This question popped up again whilst visiting the Sexy Lactation porn website wherein I encountered one of the most beautiful blonde girls I'd ever beheld. The radiant beauty of her slutty platinum blonde hair beguiled me from the moment I saw her, nearly causing me to overlook the discouraging fact that she was not particularly blessed in the breast department. However, looking through the small boob series of photos and video clips I discovered that this gorgeous yet small-chested blonde possessed a hidden talent not overtly evident until she began squeezing her nipples – her tiny tits were lactating little drops breast milk from her dark areolas as she fondled her breasts with her likewise breast milking girlfriend suckling!
Hmmm, small breasts, lactation – small breasts, lactation – but were her milky boobs delivering delightful drops of dairy goodness to her tit sucking surrogate enough to maintain my "breast interests" in this mammary milking maiden? Would suckling her breasts and drinking her warm mother's milk offset my naughty need for big tits to fondle and cleavage to caress?? I don't know, really. And what if her breast milk dried up at some point in the foreseeable future?! It doesn't bear thinking about so, instead, let's just be happy beholding this blonde beauty and her little boobs lactating in tiny tit milking photos & lesbian lactation videos from SexyLactation.com:
Breast milking small boobs lactation photos from SexyLactation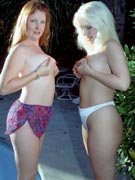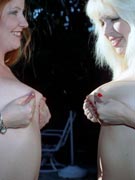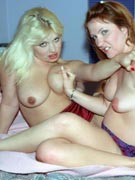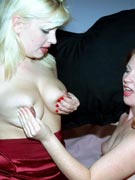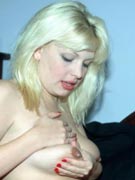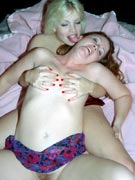 Breast milking small boobs lactation photos from SexyLactation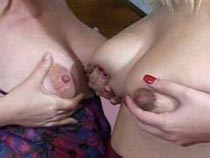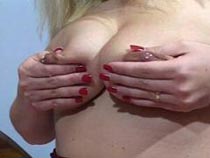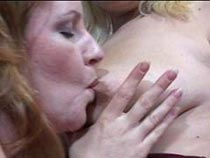 Share and Enjoy
→ Return to MyBoobSite for More Big Tits ←