Last night, the wife & I were deciding what clothes to take on our upcoming trip to Florida (so, advance warning, boys & girls, as MyBoobSite will be on hiatus for a week or so the end of July and beginning of August) and, as there will be a pool party amidst our Floridian festivities, we need to include some swimwear as well. Personally, I would really like Vix to wear her bikini as it winds up my brother to no end since he's unable to resist staring at her cleavage in such situations (which rather amuses me and the rest of the family, especially since he refuses to get a busty girlfriend of his own).
And, besides that, I've always really liked big boobs in bikinis and used to while my teenage days away at the beach perving over bikini-clad chesty girls with their gorgeous tanned cleavage out on display for all the world to see. Mmmm, beach boobs indeed, although the smell of coconut oil and jojoba in suntan lotion puts me off a bit. Would make for a nice slippery titfuck, though, but I digress into breast sex (happens).
Right, then – back to bikini tits – and L-cups at that! Yes, you guessed it, the ever lovely 32L Rachel Aldana has once again attempted to squeeze her magnificent L-cup breasts into a bikini top!! She's tried and failed before, though, as I doubt there's a bikini with a cup-size big enough to contain those udderly massive tits without the odd nipple slip wardrobe malfunction. They do really enhance her colossal cleavage a treat, though! Someone really should start a clothing store catering to mega-busty girls with giant boobs – you know, sort of an "L-cup & Up Hut" with L-cup bras, L-cup lingerie and L-cup bikinis & such – then maybe our ravishing extra well-endowed wonder would be able to find a bikini top that fits her gigantic tits!
Ah, but that'd just spoil all of our fun, wouldn't it – not to mention cause all of us big breast lovers to be arrested for loitering as we malinger outside said massive mammary merchant to see all the super busty girls go by. But, for now, we'll just have to be content watching superbly stunning slim & stacked 32L big tits bikini babe Rachel Aldana in and out of her sexy bikini in the ultimate big boobs bikini photos from RachelAldana.com: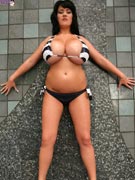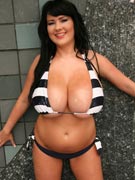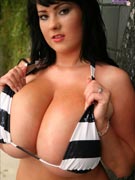 (note: actual photos available for download average 2000×3000 resolution)
CLICK HERE TO VISIT 32L RACHEL ALDANA AT RACHELALDANA.COM

Share and Enjoy
→ Return to MyBoobSite for More Big Tits ←