For the hundreds of you who have e-mailed me personally or submitted comments to MyBoobSite asking whether I was aware that Alicia 36JJ has her own website now as well as a surname ("Loren") to supplant her bra size, the answer to both is a resounding "YES"! However, being good mates with Alicia's webmaster, I promised not to promote or even make mention of her new site until it was "ready for prime time", as it were. So my sincerest apologies to those who've tried to spread the word but, in order to maintain a close relationship with those I blog here, I needed to keep schtum on Alicia-Loren until I received word that the site was ready to go.
And now it is! I've always said that such a stunning and rare JJ-cup beauty deserved a site of her very own, and she's at long last done it ("long last" may be an overstatement, though, considering she was only launched into big tits stardom earlier this year). She's been a busy bunny, too, coming up with all new photos & videos through which to share her bountiful boobage. On top of that, she's still keeping up her appearances over at DivineBreasts.com, much to the joy of dedicated members like me! What it all boils down to is this: We now get to enjoy twice as much Alicia!! :~D
Honestly, I'd have to say that my only complaint with Ms. Loren's new site is the tag line repeated twice at the top of each page which reads "One of the Biggest Breasts on the Net". Shouldn't that be "two of the biggest breasts", or am I missing something? Is that why they repeated it twice?! Eh, nevermind.
As a means of enticement to encourage admirers to her new site (as if she even needed to do so), Alicia makes the following rhetorical inquiry: "Do you like big boobs? Do you like huge soft funbags? You are at the right site. My big full breasts got so big after my pregnancy that I wanted to show them to the world. And they keep growing! Inside you will find high resolution pictures of some of the biggest boobs you have ever seen. By the way, I am also lactating!"
And show them to the world she does! More than that, we also get to see the lovely Ms. Loren in her first-ever girl-on-girl shoot with her generously endowed girlfriend Gya Roberts (of whom Alicia says, "She's got huge boobs, but not as big as mine!" )! With her having solely done solo shoots in the past, it was heartening to see she had a friend to share her new "second home" at Alicia-Loren.com…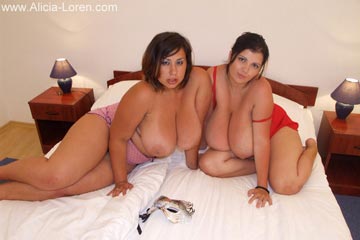 …now, I don't know whether or not the boob-some two-some are lesbians per se, but they certainly seem to enjoy fondling each other's massive mammaries (then again, who wouldn't?)! In closing this inaugural post on the metamorphosis of "Alicia 36JJ" into "Alicia Loren", here's a bit more of her with girlfriend Gya from Alicia-Loren.com:



CLICK HERE TO VISIT 36JJ ALICIA LOREN AT ALICIA-LOREN.COM